The modern nomad lifestyle is all about freedom, flexibility, and the ability to live and work from anywhere. However, one challenge that many nomads face is maintaining a stable US address for banking and credit card purposes.
This is especially true for those who don't maintain a US residence or are not originally from the United States but choose to bank there due to the benefits offered by the likes of the Charles Schwab checking account or the Chase Sapphire Reserve credit card.
The Challenge: CMRAs and Banking
While the most common solution to this challenge is to rent an affordable mail forwarding service a.k.a. a virtual mailbox (decent ones often start at around $15-20/month), these are increasingly being rejected by banks and credit card issuers.
Most virtual mailbox addresses are flagged as Commercial Mail Receiving Agencies (CMRAs) in the USPS system. This poses a significant challenge as many banks have started disallowing addresses flagged as CMRAs as your primary address on file. They still usually accept them as a secondary mailing address, but that's not always ideal for full-time travelers or non-residents who may not have access to another residential address to keep on file.
Finding the Right Virtual Mailbox: A Needle in a Haystack?
The good news is that while all virtual mailbox providers are required to be registered as CMRAs, not all their addresses are necessarily flagged as such in the systems banks use to classify an address.
While it might seem like a daunting task to find a virtual mailbox address that isn't flagged as a CMRA, it's not impossible. A tool like Smarty's US Address Verification can be invaluable in this quest. This tool not only checks for the CMRA flag but also provides a Residential Delivery Indicator (RDI) which indicates whether the address is in a commercial or residential area.
The RDI isn't as crucial as the CMRA classification, but if you can find an address that's both not flagged as a CMRA and is listed as being in a residential area, you're even less likely to run into any problems in the future.
Here's how to check whether the virtual mailbox provider you're considering can offer addresses that will be accepted by banks:
Find the list of addresses of the virtual mailbox provider
Look up each address using Smarty's US address verification tool
Make note of the addresses that come back as RDI: Residential and CMRA: N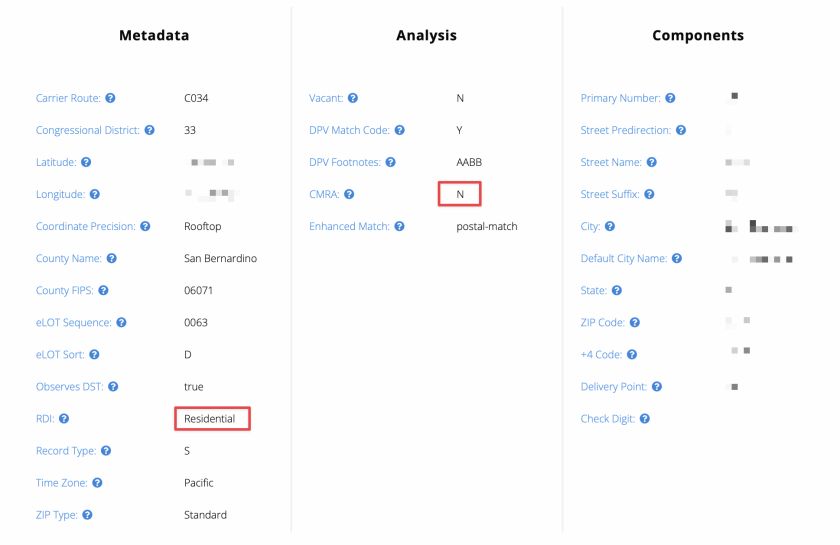 The Best Virtual Mailbox Providers with "Residential" Non-CMRA Addresses
When looking for a virtual mailbox as a non-resident or full-time digital nomad, you'll often come across providers like Traveling Mailbox or Virtual Post Mail. And there's nothing wrong with either of those—they both provide an excellent service at a reasonable price.
But if you're searching for a virtual mailbox provider with lots of suitable addresses, look no further than Anytime Mailbox. They offer hundreds of addresses classified as non-CMRA in the USPS system (many of which are also located in residential areas).
With thousands of addresses to choose from all over the US (and even hundreds of international locations), there are loads that won't give you any issues for banking purposes!
It still takes some work to find the "good" addresses, though—especially the ones located in residential areas.
But fear not, I've already done that work for you!
I looked up every single address offered by Anytime Mailbox using the Smarty database mentioned above to check if it was classified as non-CMRA and/or residential.
I've grouped my findings by state and added it all to this massive table: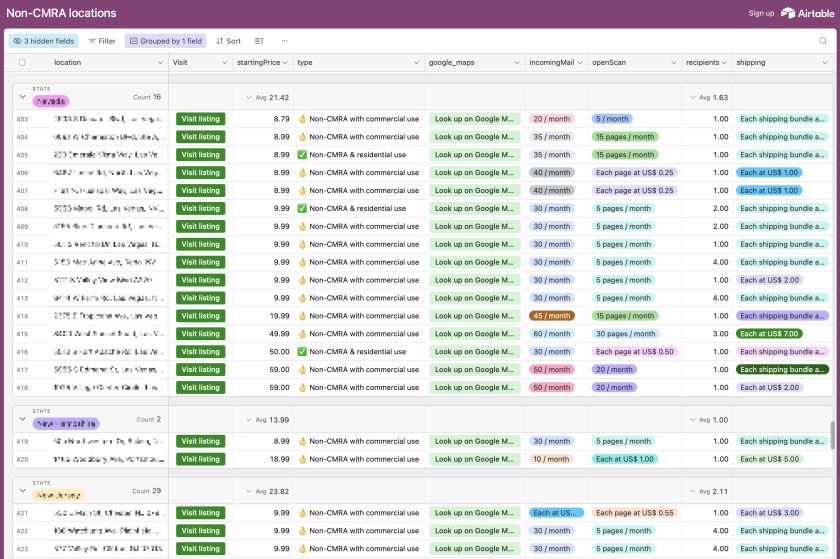 You may have noticed that I've blurred out the addresses in the screenshot above. It's not because I want to keep my findings from you, but Anytime Mailbox requested that I don't make the list completely freely available.
But fret not, all you need to view the full list is a free Nomad Gate account (it takes 15 seconds to sign up).
Once you've logged in, you can view it here:
Other Considerations When Choosing Your Virtual Mailbox Address
There are other things to keep in mind beyond whether an address is flagged as commercial or not when choosing your virtual mailbox, including:
What's the fixed monthly fee?
What's the cost of receiving, scanning, and forwarding mail?
Are there any state or local sales taxes (it'll become your billing address for online purchases, dictating the tax you pay on many purchases)?
All of this information is also included in the table!
You can even open each location in Google Maps and check out Street View, just in case you care about the look of the neighborhood you choose to "base" yourself in…
Additionally, you may be interested in sales tax on digital goods and services. Many states don't tax these, so even if there's a sales tax for your preferred mailbox location, you may not have to pay taxes on your digital purchases and subscriptions, such as e-books and iCloud plan.
I hope you find the database helpful! And if you have any questions, please leave them in the comments!
---
Shoutouts: Thanks to Simon from Freedom Surfer for letting me know about Anytime Mailbox!
Cover image credit: Christin Hume
Join now!
Get free access to our community & exclusive content.
Don't worry, I won't spam you. You'll select your newsletter preference in the next step. Privacy policy.