Did you know that every time you swipe your card in a foreign country, your bank is charging you exorbitant fees and giving you a terrible exchange rate? Yet, you can save thousands every year by choosing the right bank.
If you travel abroad for a week or two per year, 3–5% in various foreign transaction fees and bad exchange rates for international card use is not really a big problem. But as a frequent traveler or digital nomad spending most of your time abroad, these fees add up quickly. In fact, you might be donating hundreds or even thousands of dollars yearly to your bank. I'm sure you could think of a better way to spend that money.
But what if I told you that there are banks out there that charge no monthly fees, 0% foreign transaction fees, 0% currency exchange markup, 0% ATM withdrawal fees and even refund fees imposed by ATM owners worldwide? Sounds like some sort of black magic right? Well, it's not. I spent countless hours finding the best banks for nomads in North America, Europe, and Oceania, so you don't have to. Read on to learn more about these incredible banks and how you can open an account with them today.
Update: In this article you'll find personal bank accounts. If you're a freelancer or business owner, don't miss my article on the best business bank accounts you can open remotely. 🕴
Nomad friendly banks available globally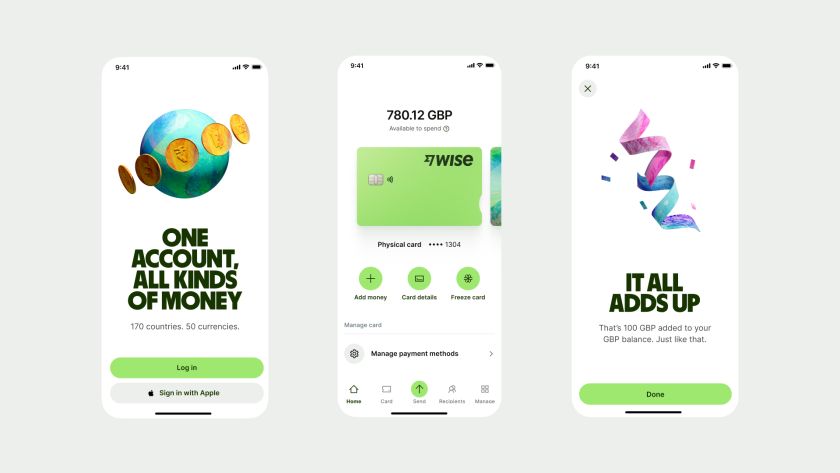 Wise, formerly Transferwise, is one of the biggest names in global fintech and international banking. Wise allows you to hold money in over 50 different currencies, and is probably the banking product that comes closest to offering a truly global service, earning it this special mention.
There are only about a dozen countries or so where you cannot use Wise at all (e.g. for cheap international money transfers), and only a few more where you cannot get their free borderless multi-currency accounts.
In many countries, you also get access to the Wise debit card which comes with some of the most competitively low fees for international spending.
Personally, the feature I like the most with Wise is that they provide you with local banking details in a range of countries (e.g. in Europe, US, Australia, Singapore and many more) making it easy to receive payments from clients or friends located all across the world without any extra charges or delays.
Another thing I especially like about Wise is that they have always been completely transparent about the low fees they do charge, including how much go to cover their direct costs as well as how much goes to improve their product. Unlike competitors who initially launched with too-good-to-be-true pricing which soon thereafter gets jacked up (classic bait-and-switch), Wise has tirelessly worked on improving their cost structure leading to even lower fees over time.
Wise at a glance
Highlights
Quick and easy to set up an account
Affordable fees and reasonable exchange rates
Trustworthy, and does not hide fees
Accounts are borderless and make it to both send and receive money almost anywhere
Things to note
3D Secure online payments are not currently supported for US-issued cards
Like with many (most?) checking accounts these days you will not accrue interest on your deposits. But that's a small price to pay with what you save on using the card abroad. To grow your wealth, it's better to follow my investment guide for nomads and expats
Quite basic budgeting features, although they now offer a money jar feature
Nomad friendly banks in Europe
N26 (EUR — EU/EEA: 🇩🇪🇦🇹🇪🇸🇮🇹🇮🇪🇸🇰🇬🇷🇫🇷🇧🇪🇪🇪🇫🇮🇱🇻🇱🇹🇱🇺🇳🇱🇵🇹🇸🇮🇳🇴🇸🇪🇩🇰🇮🇸🇵🇱🇱🇮)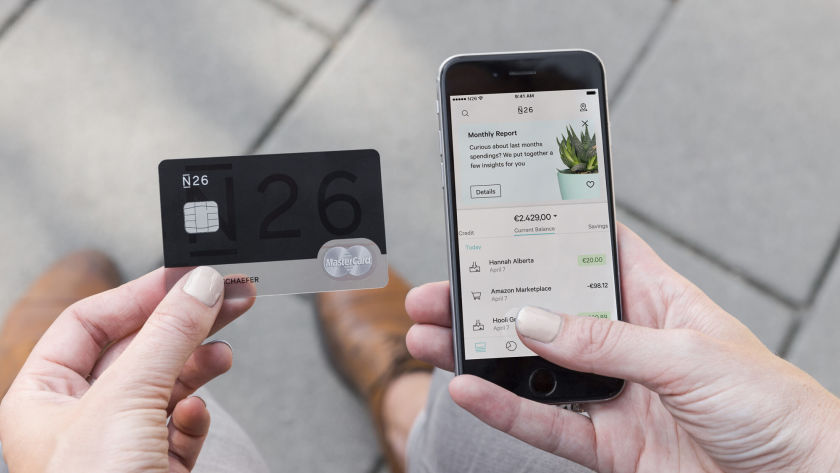 My favorite bank in Europe is definitely N26. By now it's one of the most mature of the user-friendly and innovative challenger or neo-banks that have revolutionized the European banking market in the last few years.
Having started out in Germany, N26's EUR account is now available in most of Europe. Since late 2018, N26's EUR accounts are also available to residents of Norway, Sweden, Denmark, Poland, Iceland, and Liechtenstein.
But don't worry if you're not currently in Europe, dear nomad friends. One of the best things about N26 is that you can open an account from anywhere in about 5 minutes. You just need your smartphone, an internet connection, and your ID.
(If you're unsure about the process, just read my article on how to open an N26 account remotely)
You'll still need a delivery address in Europe (specifically in Austria, Belgium, Denmark, Estonia, Finland, France, Germany, Greece, Iceland, Ireland, Italy, Liechtenstein, Luxembourg, the Netherlands, Norway, Poland, Portugal, Slovakia, Slovenia, Spain, Sweden, or Switzerland). If you're not currently in any of those countries, don't worry. As a global-minded citizen, I'm sure you can make some European friends that will allow to you use their address as a C/O address to open the account. You can easily change the address after receiving the card.
N26 is now offering a few different plans, but the free Standard plan is probably still the best bet for most—unless you can take advantage of the excellent travel insurance included with the paid plans. That's the case if you're mostly based in a European country and often make trips abroad of up to three months at a time.
N26 You (€9.90/mo) and N26 Metal accounts (€16.90/mo) give you medical, trip cancellation, luggage, winter sports, and even car sharing, e-scooter, and e-bikes hires covered for damages. N26 Metal plan also adds car rental insurance and phone insurance (up to €1,000 for theft and damage). Both of these plans now also cover for COVID-19 pandemic-related issues: if you have to cancel or shorten your trip due to becoming ill, having to quarantine, or up to €1,000,000 emergency medical bills. So you can have some extra peace of mind.
If you don't need the travel insurance, but want a free physical card and like to use subaccounts for better budgeting and saving—their Smart plan (€4.90/mo) could be best for you.
N26 at a glance
Highlights
No monthly/yearly costs
No set-up cost, foreign transaction fees, or ATM fees* worldwide
No currency exchange markup (you get the official Mastercard rate, which tend to be the best available.
More features than most neo-banks, including Mastercard, Maestro card, low-cost & straightforward investment options, Apple & Google Pay, Wise integration, a business account for freelancers, and much more.
Travel insurance with COVID-19 coverage with premium plans
Can be opened remotely from anywhere, click here to learn more
Things to note
They only support bank transfers within Europe (through the SEPA network) — but for other transfers, you can just use Wise or similar services, which is the preferred way of sending money across borders/currencies anyway.
While virtual cards are for free, there is a €10 charge to get a physical card with the free plan (unless you're from Germany, Austria, France, Spain, or Italy).
There is a deposit fee of 0.5% for balances over €50,000 (only for accounts opened after 19.10.2020 and does not apply for Portugal).
Not all features and plans are available in all countries yet.
N26 is currently not allowed to onboard a lot of customers, while working with German authorities to improve their KYC procedures, meaning you may get placed on a waitlist to open an account
* They add a low 1.7% exchange fee for ATM withdrawals only in non-EUR currencies for the Standard and the Smart plan. That's still much lower than the competition (typically 2-5% on all foreign spend, including point-of-sale).
---
Tomorrow (EUR — EU/EEA: 🇩🇪🇦🇹🇮🇹🇪🇸)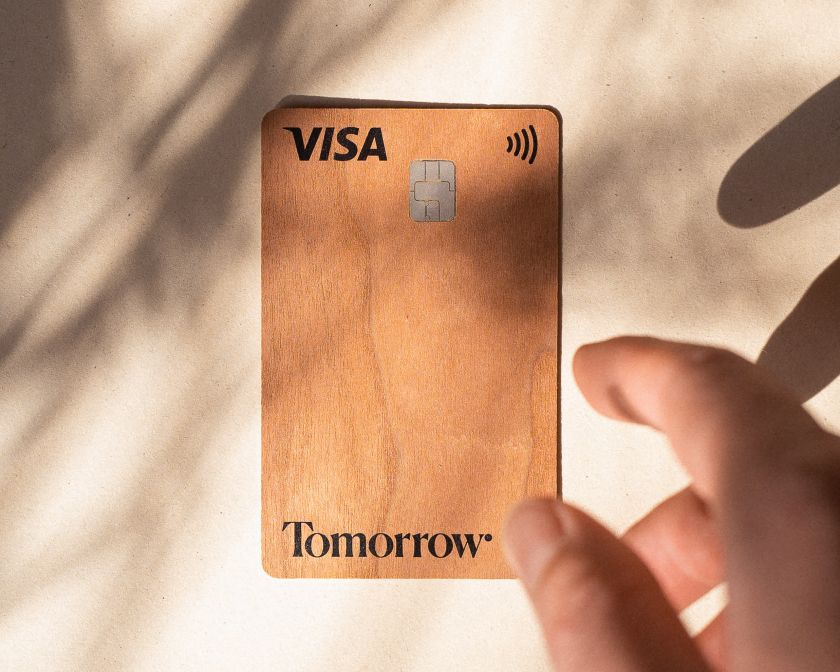 Tomorrow is a German banking product focusing on sustainability, so a perfect option for nomads and other travelers who are concerned about their environmental footprint.
Although they are currently only available in Germany, Austria, Italy, and Spain, they make it easy to send, receive and withdraw money all around the world. For every 5 euros that you pay with your Tomorrow Visa card, they will restore one "wheelbarrow" full of healthy habitat.
With any money that you deposit, they will only use it to invest in renewable and sustainable products or resources.
They have three plans all at a monthly fee:
Now – at 3€/month, with withdrawals costing 2€ (but no additional fees on foreign exchange).
Change - at 7€/month, with 5 free monthly withdrawals, optional shared account and no additional foreign exchange fees.
Zero – 15€/month, a wooden card with unlimited withdrawals and no additional foreign exchange fees.
Tomorrow at a glance
Highlights
Lots of way to reduce your impact on the environment, such as rounding your expenses to offset carbon emissions
Saving and bill-splitting features
No additional foreign exchange fees on any of the plans
Things to note
Comes with a monthly subscription plan, and the cheapest plan has little to offer that doesn't come with additional fees
Not available in many countries as of present
---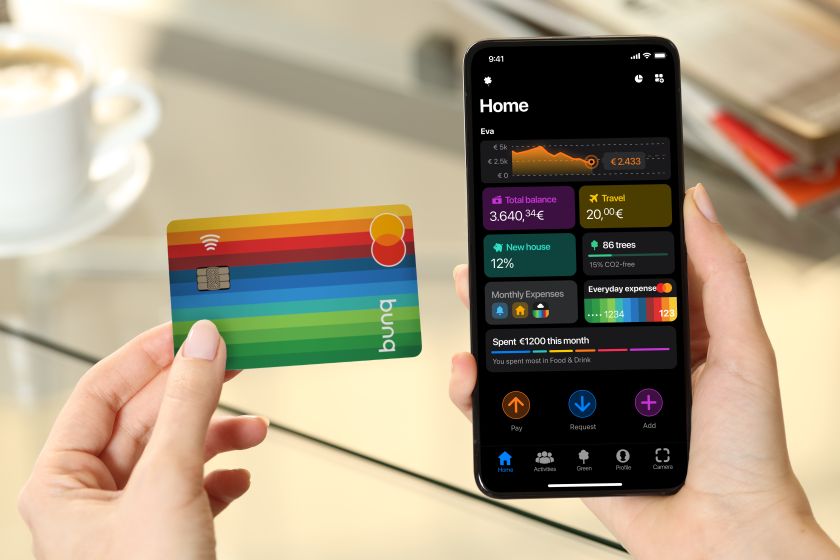 Dutch bank Bunq is a mobile only bank that offers both personal accounts and business accounts.
They offer many features with their personal accounts, including the option to have a shared account with a partner, an IBAN in either Germany, Netherlands, Spain, France or Ireland (or multiple IBANS in their more premium plans), and the possibility for a Maestro Card (particularly useful in Central Europe and the Netherlands).
While they do have a free version, it is quite limited and doesn't come with a debit card, so the best option would be €2.99 a month for their "Easy Bank" plan.
To add 16 different currencies and investment features, you can upgrade to "Easy Money" for €8.99 per month, or €17.99 a month for "Easy Green", which allows you to offset your CO2 emissions, similar to Tomorrow.
Bunq at a glance
Highlights
IBAN in the Netherlands, Germany, Spain, France, or Ireland
Excellent mobile user experience, and very fast to open an account
Offers both Mastercard and Maestro
They offer Wise integration for non-SEPA transfers
Things to note
You will need to pay €2.99 a month to get full use of Bunq
No travel insurance or other perks that really help compensate for the monthly price
---
Monzo (GBP — UK 🇬🇧)
This fast-growing challenger bank is the closest thing to N26 in the UK. You get a free current account and debit card, a user-friendly app which makes it easy to stay on top of your spending, and just a few, low fees.
The account is easily opened through their mobile app (including ID verification), and the debit card can be sent to any UK address.
Monzo at a glance
Highlights
No FX fee for card spend in any currency (you get the official Mastercard rate
The first £200 of ATM withdrawals abroad is free every month, after that, it costs 3%
Can be used with both Apple and Google Pay
Very good mobile app with excellent budgeting features, subscription management
Things to note
You won't accrue interest on your deposits
Only native support for domestic UK bank transfers, for transfers to other countries you can use the built-in Wise integration
There's currently no web interface, so you can't access your account without your smartphone
---
This is a competitor to Wise that many people have probably already heard about. They got quite famous in nomad circles in the middle of 2010s when they launched with free unlimited currency conversion, free international money transfers, and free instant top-ups from debit and credit cards.
But these perks are no more.
Now you can only exchange up to £1,000 per month for free, all international transfers are paid, even on the Premium and Metal plans, and only non-commercial cards issued in the EU can be used for free top-ups.
While Revolut was initially available worldwide, they had to scale back to just the EU/EEA, though they have now added back support for a handful non-European countries, though usually with limited services.
The thing you'll notice as you start using Revolut is that pretty much all their features has one or several asterisks attached to them, such as:
Free currency conversion (including international card spend) not being available for all currencies, nor on the weekends, nor for large amounts.
Or that their the travel insurance you get with their Premium account which advertises cover for your whole family only really includes your kids (under 18), not your spouse.
Or that the 1% cashback on all your non-EU purchases for those splurging for the Metal plan is capped at what you pay for the plan—so it's essentially just a discount, not a cashback.
That said, while they are no longer a clear winner on price, their app is probably the most feature-packed of all the big fintechs, including budgeting features, microsavings, investments, etc.
Revolut may also add value if you are a freelancer, sole trader, contractor, and self-employed in some other way, as they now have a Revolut Pro. This is essentially the same as Revolut Business, but can be accessed through their personal account app instead, to make things easier for solo business owners.
Revolut at a glance
Highlights
Easy to set-up an account
Nice app with loads of features, though many are quite half-baked
Low fees when used for EUR within the Single European Payment Area (SEPA)
Great data to visualize your spendings and savings, as well as the option for microsavings and budgeting
Revolut Pro for solo business owners
Things to note
Over the years they have had serious issues with their customer support
Reputation for shoot first (i.e. freeze or close accounts), ask questions later, leaving customers without access to their money
Lots of hidden fees and limitations
Tendency to over-promise and under-deliver
---
Honorable mentions
Monese (GBP & EUR — UK 🇬🇧): Free to use globally, but with certain limits. Affordable upgrade in case you're a big international spender or need more than €/£200 in monthly ATM withdrawals. The EU customers can have EUR (Belgium) and RON accounts, and the UK customers can open these plus GBP accounts.
DKB (EUR — Germany 🇩🇪): Similar fee structure to N26, but I personally found their support to be quite had to work with as a non-German speaker (insisting that you email them in German, not English for example, else refusing to respond). Could be a good option for Germans still.
This isn't your run-of-the-mill bank account. It's worthy of a special mention because it's a fantastic product for those of us that earn and spend in several currencies.

You'll get local bank details in the United Kingdom 🇬🇧 (GBP), the Eurozone 🇪🇺 (Belgium or Germany—EUR), the United States 🇺🇸 (USD), Australia 🇦🇺 (AUD), New Zealand 🇳🇿 (NZD), and Poland 🇵🇱 (PLN), which makes it easy to get paid from all over the world.

Pair that with a free debit card that can be used worldwide with very low fees, and the fact that it's available to residents of most countries, and you have yourself a winner. They offer both personal and business accounts.
Nomad friendly banks in North America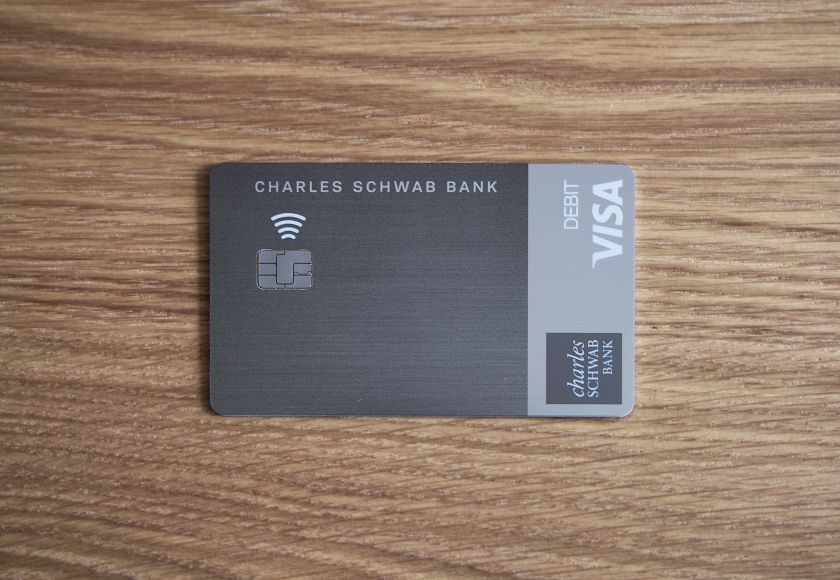 By far my favorite bank for nomads in the US, and perhaps even in the world. Pretty much anything is free, from all card usage globally to unlimited free checks (if you still use those). They even refund you unlimited amounts of ATM fees imposed by ATM owners worldwide.
The only thing that leaves me wanting a bit more is their online banking solution and mobile apps. They have improved a lot in since I first started recommending Schwab, but I will still only characterize them as OK. Then again, most US banks suck in this area.
Like most US banks it also requires you to be a US resident. But as long as you keep a US address on file, they assume you are living there. If you don't have a US address while traveling or living abroad, your account might be subject to closure. A mail scanning and forwarding service that offer street addresses (not P.O. boxes) can take care of this for a low monthly fee.
Charles Schwab at a glance
Highlights
No monthly/yearly costs
No set-up cost
No ATM fees worldwide (they even refund fees imposed by the ATM owner!)
No foreign transaction fees
No currency exchange markup*
The account opening process is primarily online — you never have to show up anywhere physically. They do however have a few branches around the country, and I opted to open my account in one of them since I'm not a US citizen.
Get $100-$500 deposited in your account after opening— click here to access the deal. (Nomad Gate members only—it takes 30 seconds to reguster for free!)
Things to note
You need to be a resident of the United States. However, I opened my account while being in the country as a tourist through the visa waiver program. But I do have a Social Security Number, and I had just applied for a State ID card, so I supplied that ID number as well.
The checking account comes bundled with a Schwab One brokerage account. Unless you have a brokerage account with them already, you need to sign up for one when you apply for the checking account. It has no cost, and you have no obligation to use the brokerage account.
If you are outside the US when opening the account online it is essential that you use a VPN. If not they will ask you to physically present yourself in a branch to verify your ID. We have some great VPN recommendations for you in case you don't have one yet.
* You will be charged Visa's official rate, which is pretty darn close to the mid-market rate.
---
Honorable mentions
Capital One 360 (USD — United States 🇺🇸): Quite similar benefits compared with Charles Schwab, but does not refund your ATM fees.

STACK (CAD — Canada 🇨🇦): While not techically a bank, this prepaid Mastercard is the only Canadian option with no FX fees, no ATM fees, and no monthly fees. Highly recommended for Canadians who travel abroad!
Do you know any nomad friendly banks in Canada? Let me know, so I can add them here!
Nomad friendly banks in Oceania
HSBC Everyday Global Account (AUD + 9 more — Australia 🇦🇺)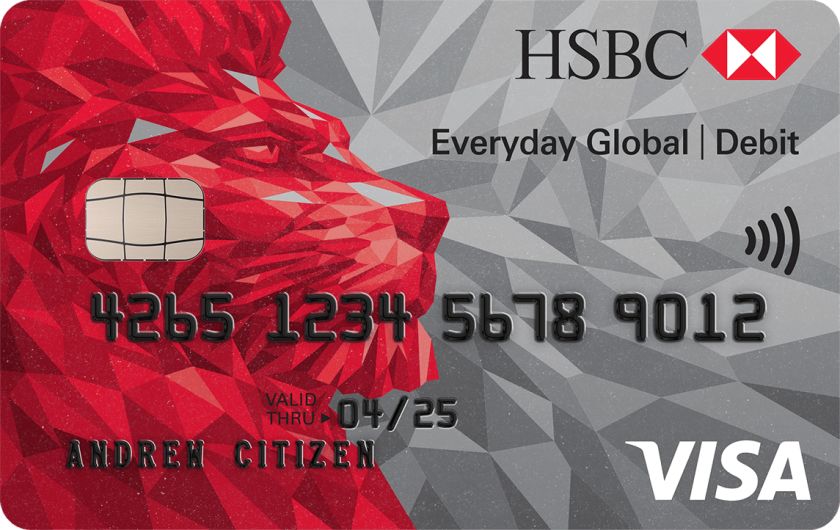 Launched in the spring of 2018, the HSBC Everyday Global Account is the first Australian multi-currency travel card and bank account without foreign transaction fees or "criminal" exchange rates.
Australian residents can apply to open an account online. Non-residents can try to apply through a branch, but you may not be accepted.
HSBC Global at a glance
Highlights
No monthly costs
No set-up cost
No ATM fees worldwide
No foreign transaction fees
You can hold a total of 10 different currencies on your card: Australian dollars, US dollars, British pounds, euros, Japanese yen, Chinese yuan, Canadian dollars, Singapore dollars, Hong Kong dollars and New Zealand dollars.
No currency exchange markup (you get the official Visa rate if you spend in currencies other than the ones supported)
Can be used with both Apple and Google Pay
Things to note
You won't accrue interest on the first \$9,000 of your deposits
$1,000 ATM withdrawal limit and $10,000 card purchase limit
Currency conversions between supported currencies are not real-time over the weekend but are processed the next bank day. Card transactions will still work, even if you don't have a large enough balance in the relevant currency, but at a worse exchange rate than usual.
Citibank (AUD — Australia 🇦🇺)

Citibank has earned a reputation for being a good option for Aussie travelers. Although their internet banking is so-so, with the Citibank Plus Transaction Account, you get fee-free banking around the globe, with no foreign transaction fees and you get the official Visa exchange rate with no additional fees both for ATM withdrawals and regular transactions around the globe.
To open an account, you need to be a resident of Australia. You can easily complete the online account opening process, but you have to stop by one of their branches to show ID proof before they open the account. They have branches in most larger Australian cities.
Highlights 🌟
No monthly/yearly costs
No set-up cost
No ATM fees worldwide*
No foreign transaction fees
No currency exchange markup**
Free bottle of wine when you dine in select restaurants
Fee-free international transfers
* They do not refund fees that the owner of the ATM might add, which is a common practice in large parts of the world.
** You will be charged Visa's official rate, which is pretty darn close to the mid-market rate.
Special thanks to Grum of wgopn for sharing his experiences with Citibank!
ING Orange Everyday (AUD-Australia 🇦🇺)

Another recent contender in Australia, ING now refunds ATM fees (charged by the ATM owner) worldwide with their Orange Everyday account, as long as you meet the following two conditions:
Receive at least $1,000 in your account every month
Make at least 5 card purchases per month
The downside is that if you don't meet the requirements, you don't only miss out on the refunds, but you're also charged a $2.50 international ATM fee, plus a 2.5% foreign transaction fee for both purchases and withdrawals.
Highlights 🌟
No monthly/yearly costs
No set-up cost
No ATM fees worldwide*
No foreign transaction fees*
No currency exchange markup**
* Only if you meet the $1,000 deposit + 5 card transaction requirement in the preceding month.
** You will be charged Visa's official rate, which is pretty darn close to the mid-market rate.
Special thanks to Chloe R for the tip!
Open ING Orange Everyday account
---
Honorable mentions
Wise (formerly TransferWise Borderless) (NZD, AUD, EUR, GBP, USD + dozens more—Australia 🇦🇺 & New Zealand 🇳🇿): As previously mentioned, this is a fantastic product that give you local bank details in 6 countries (including Australia and New Zealand), and let you hold several dozens more currencies. You can convert between currencies at some of the best rates in the market, and you get a free debit card that makes spending around the world a breeze.
Air NZ OneSmart (NZD, AUD, SGD, HKD, JPY, GBP, EUR, CAD, USD—New Zealand 🇳🇿): This innovative prepaid card offer 3 free international ATM withdrawals per calendar month, and can hold a variety of different currencies. If you are in a country with one of the supported currencies, this card can be a good option. If you need to use the card for transactions in unsupported currencies, there is a 2.5% fee. There is now also a $1 monthly fee.
Other nomad friendly banks?
I have included all the nomad friendly banks I came across in my research, but if I missed a bank in your country please let me know, so I can update the article!
If you're not able to open accounts with any of the banks listed in this article, check if there's a bank in the Global ATM Alliance in your country. These banks usually waive any fees when you use your card in a partner bank's ATM. Note that they often still charge foreign transaction fees of up to 3%.
Another alternative can be using a bank with a significant global presence, such as HSBC bank, and as much as possible use their ATMs abroad. Yet, tracking down the few ATMs you can use fee-free in a particular city can be quite impractical.
---
Transferring money between banks
If you successfully open one of the bank accounts that I've listed above, you might wonder how you can fund your account if your current account is in a different country. Usually, the fastest and easiest way is to use Wise (formerly TransferWise) and is what I would recommend in most cases. Even if your bank supports international transfers, you'll most likely get a terrible exchange rate, plus loads of fees—especially if the transfer goes via the SWIFT network.
---
I hope this article was helpful! If you have any questions, please post them in the comments below. If you know of any other nomad-friendly banks, please send me a tip! 🙌
Cover image credit: Nomad Gate. License image for free. Derived from photo by Sebastian Voortman, and product images by N26, HSBC, Monzo, and Charles Schwab Bank.
Join now!
Get free access to our community & exclusive content.
Don't worry, I won't spam you. You'll select your newsletter preference in the next step. Privacy policy.