UPDATE: N26 has decided to leave the US as of Jan, 2022. Check out our Best Banks for International Traveler's article to learrn about the alternatives.
It has been a long time coming. N26 confirmed in late 2017 that they were going to open up to American customers soon. Initially, they hinted at a 2018 launch, but now, more than 18 months later, on July 11, N26 finally launched in the United States.
As of August 22, 2019 you can finally head over to N26's website and sign up.
How to open an N26 account in the US
Opening an N26 account in the US is a breeze. It only takes 5 minutes.
Requirements
You're 18+ years old
You're a US citizen or a US permanent resident with an SSN
You own a compatible iOS or Android phone
Step 1: Provide personal information
You'll be asked for:
Your full name
Date of birth
Social Security Number (SSN)
Home address (not a PO box or virtual mailbox)
Mobile phone number
Your email address
Step 2: Verification
Next, N26's systems will check your information against public databases. There might be additional control questions, but usually this is a quick and straightforward process that takes only a couple minutes at most.
If the automated verification somehow fails, N26 will request additional documentation to prove your identity and residential address. If you have a state ID or driver's license with your address listed that is sufficient.
If you use any other form of ID (e.g. a US or foreign passport) you also need to prove your address with a utility bill (bank statements, cable bills, etc not accepted) or a lease agreement (in case you don't have any utility bills in your name).
Step 3: Funding your accounnt
Once you've been verified, you can set up an ACH transfer from your current bank to add money to your account. Or you can give your account details to your employer and wait for your paycheck.
Step 4: Receive and activate your N26 debit card
Typically you'll have your new N26 Visa Debit card within a week. It's being shipped by USPS.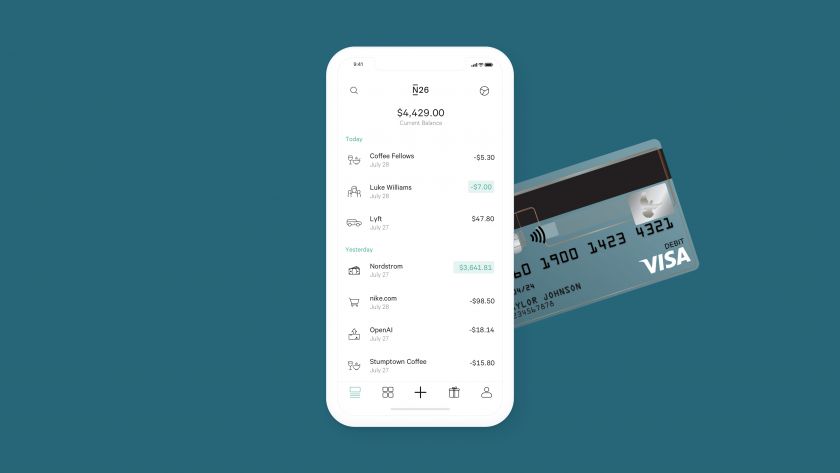 N26 Features in the US
Unlike in Europe, N26 doesn't have their own banking license (it's an extremely long and convoluted process in the US), but will instead rely on a partner bank (Axos Bank). Deposits will still be insured by FDIC up to $250,000. Visa (instead of Mastercard) will issue the American cards.
Some of their popular features from the EU version has already made it across the Atlantic, including "Spaces" (virtual sub-accounts that help with e.g., savings goals) and their excellent budgeting features.
While their premium plans (Black and Metal) haven't launched yet, they will probably be even more generous than in the EU, given the larger merchant fees banks earn in the US.
N26 has also launched retailer specific perks for their US customers, giving you a discount when you pay with your N26 card at a growing list of partners, such as Tidal and Blinkist.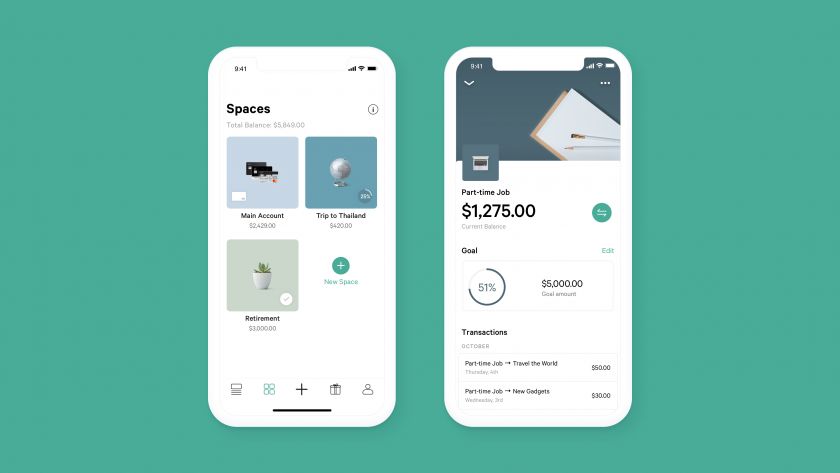 Fees
There is some good news here, and some less good, too.
First, the good:
No monthly fees, and no minimum account balance
No foreign transaction fee
No overdraft fees (there's no overdraft)
Two free ATM withdrawals per month in the US (and soon N26 will be able to detect and refund ATM fees charged by the ATM owners as well—although that feature isn't live yet)
No fees for cash withdrawals from bank tellers or at e.g., supermarkets
Next, the bad:
ATM withdrawals abroad cost $2 plus 2%
Ok, that wasn't a lot of bad stuff—and it's still much cheaper than most banks in the US. But compared to e.g., Charles Schwab, it's not great.
How to open a European N26 account
If you want an N26 account domiciled in Europe (in € or £) instead, you can already do so, with the following caveats:
You need to have a European mailing address
The account will be based in Germany (or the United Kingdom), so it's not practical to use for transfers or direct deposits in the US. But as a travel card, it's still useful—especially if you have income in euros (or British pounds).
Open a European N26 account
Learn about the account opening process
But if you're planning on using the account primarily in the US or only have income in US dollars, it's probably better to sign up for a US account instead.
However, as long as you're a US resident or citizen, you can actually (and a bit surprisingly) have an N26 account both in the EU and the US at the same time. I say surprisingly because they don't allow you to have a UK account and EU account at the same time. All you need to do is to sign up with a different email address than your original EU based account.
Tip: If you use Gmail, you can add a unique string to your email address, like this: [email protected] in the case your regular email is [email protected]. It will still get delivered to your regular inbox.
If you have any questions or comments, leave them below!
Join now!
Get free access to our community & exclusive content.
Don't worry, I won't spam you. You'll select your newsletter preference in the next step. Privacy policy.