⚠️ Important update: The Portuguese government announced on February 16, 2023 that that the Golden Visa program will soon close. However, for the time being it's still possible to submit applications. See here for the latest updates
After the ups and downs of the past year and a half, 2022 looks set to be a promising year for the real estate market in Portugal. Hopefully, the COVID-19 pandemic will be behind us, the real estate market will be thriving once again and investors will be wondering just where to put their money.
So, where to invest in Portugal? The Portugal Golden Visa is an attractive option among international investors. As a residency-by-investment path for non-EU citizens, the program provides investors with residency in Portugal and the possibility for citizenship after five years. An investment of €500K for real estate acquisition is needed, or €400K for low-density areas.
This popular program has opened doors for international investors since its inception in 2012 — from Brazil to China, and South Africa to the US. However, key changes implemented on 1 January 1 2022 have fundamentally impacted the program's foundations.
Now it's no longer possible to invest in residential real estate in the hotspots of the country, such as Lisbon, Porto, and many coastal areas. What does this mean then for real estate investments in the country? And more importantly, what are the Golden Visa opportunities for 2022?
State of the real estate market
At present, there is no getting around the uncertainties birthed from the COVID-19 pandemic — including how both the economy and the real estate market will respond. Nonetheless, it is important to bear in mind that the property market in Portugal has proved to be resilient to the pandemic.
Despite house prices decreasing by 3% in Lisbon city, on a national level, they have increased (although at a slower pace), in the Lisbon Metropolitan area, the Algarve, and Porto.
Forecasts by CBRE research, a globally renowned real estate provider, indicate that by the end of 2022, GDP should return to its rate in 2019. GDP is a good indicator with regards to the health of any economic market, and a country with a high-performing GDP is considered an attractive sign to incoming investors.
If all goes well, then it's safe to assume that the market should be in an even stronger position than it is now. With greater stability, less uncertainty in the market, and more investors looking to Portugal, the ingredients are there for the sector to thrive this year.
The Portugal Golden Visa
The Portugal Golden Visa is one of the most popular residency-by-investment initiatives in the world. The program offers the investor an entryway into Europe, increased mobility, and the possibility to secure citizenship after five years. To qualify, investors have to be non-EU citizens and purchase a property in Portugal that is worth €500K or more (acquisition) or €350K (rehabilitation) across the country, taking into account location restrictions. In low-density areas, this falls to €400K (acquisition) and €280K (rehabilitation).
However, the Golden Visa changes that unfolded on 1 January 2022 may initially prove to be off-putting for investors. Only residential properties that are located in designated interior areas qualify for residency. This means that Lisbon, Porto, and many coastal towns in Western Portugal are no longer eligible for residential real estate investments. However, Golden Visa applicants can still invest freely in commercial real estate anywhere in Portugal.
The good news is, the discounted 20% investment rates for real estate investments located in low-density areas of Portugal still apply (€400K or more for acquisition or €280K and up for rehabilitation).
Low-density areas are defined as having 100 inhabitants or less per square kilometer or that have a GDP that is 75% (or lower) than the national average.
The thought process behind this is to increase development in other areas of the country. And with stunning locations off the beaten track, from the wild and historic north to the fertile lush hills of the Alentejo, these areas are waiting to be discovered.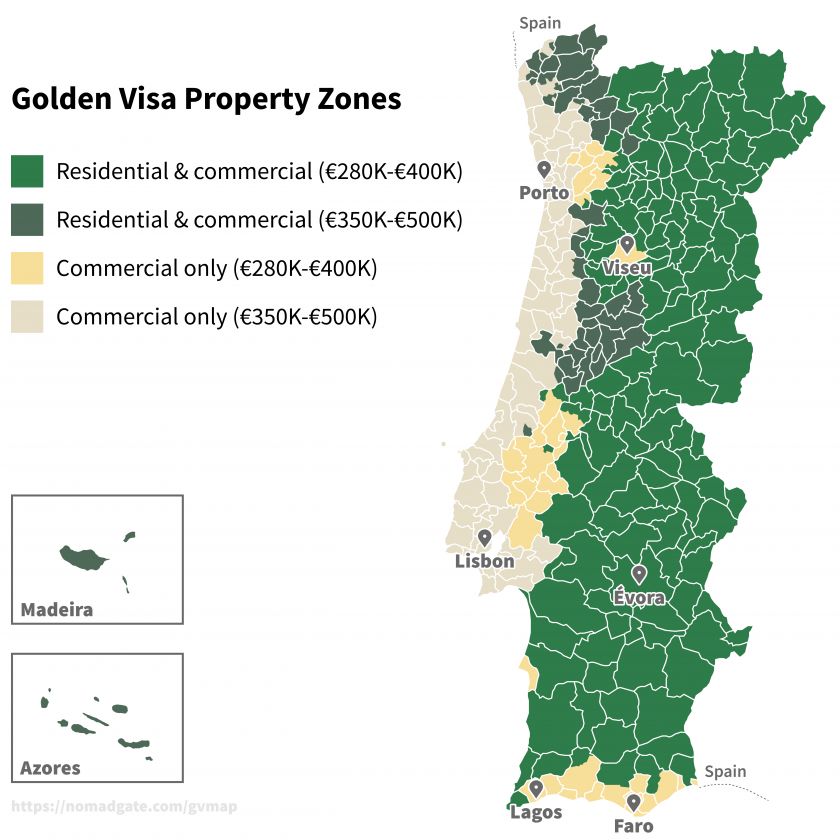 ✨ New feature: We just launched a new Portugal Golden Visa real estate search engine where you can input any address in Portugal and it'll tell you whether it's low- or high-density and whether residential investments are allowed or not.
What do the changes mean for the real estate market?
In essence, the Golden Visa changes will create a shift in buying behavior, with more investors seeking investment opportunities outside the bright lights of the city or close to coastal resorts.
It is believed that these changes will simply diversify real estate investments to other parts of Portugal. Instead of residential real estate investments focused on key hotspot areas like Lisbon or Porto, investors will look into the Alentejo, the Southwest, the North, and the Center of the country.
Low-Density Areas
The shift in buying
While working from home once wasn't accessible to everyone, most of the workforce has now adjusted to this new way of life—all that's needed is a stable wifi connection and you can still be (virtually) close to your colleagues. When the pandemic is over, it's likely that this new way of work, or more probably "flexible working", will still remain in our psyche. Low-density areas are perfect to work in peace and quiet, in the depth of nature.
The COVID-19 pandemic has paved the way for this trend in remote working. Living and working outside the busy city evidently has its perks, such as avoiding the long commute and the soul-destroying traffic. What's more, there is more time to spend with your family, relax and do activities that you may not, previously, have had time for. The hot topic of being a "digital nomad" has never been so fitting.
If you are looking to fully embrace this way of life, then the changes to the Golden Visa program may not be an issue for you. Indeed, most of the developments in Portugal are in the cities and coastal regions. This leaves beautiful, quiet areas that remain relatively undiscovered.
Benefits of low-density areas
Picture sitting in your well-lit study in the heart of the Alentejo. The rolling hills and vineyard pastures are visible just outside your window. You're enjoying a lunch of local produce —queijo (cheese) or chorizo — or instead are opting for a dip in the pool during your lunch break. Working from home provides you with the flexibility to have it all.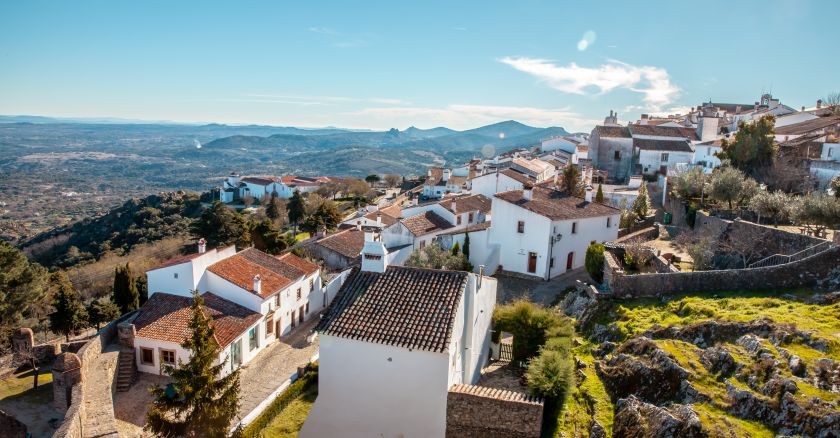 This said, even in the heart of nature you will no doubt be in close proximity to key services. This is because Portugal is a relatively small country, so you will likely still have all the amenities that you will need.
Low-density areas are perfect for retirees and families alike, providing you with quiet calm, and space. Nonetheless, be sure to scout the closest healthcare facilities or schools. The tax-friendly non-habitual resident (NHR) scheme remains viable, where, if planned out correctly, you can enjoy certain tax freedoms for ten years.
Aside from the perks of remote working and the welcoming tax schemes, the most simple benefit of low-density areas in Portugal are their beauty. With pristine landscapes, rolling hills, and local delicacies, the interior has ample to offer. Off the beaten track you will find what it means to live a truly Portuguese way of life. With friendly locals, you will be able to feel like you are a real part of the community.
The Islands—an upcoming trend for 2022
The autonomous islands of Madeira and the Azores have much to offer investors. Both islands are beautiful in their own right, with the eternal spring of Madeira and the magical green of the Azores. Each has very established real estate markets, particularly Madeira. What's more, real estate investments in the two islands will still qualify for the scheme following the changes that will come into force. This will put the limelight on both locations, as the focus moves from mainland Portugal to the autonomous islands.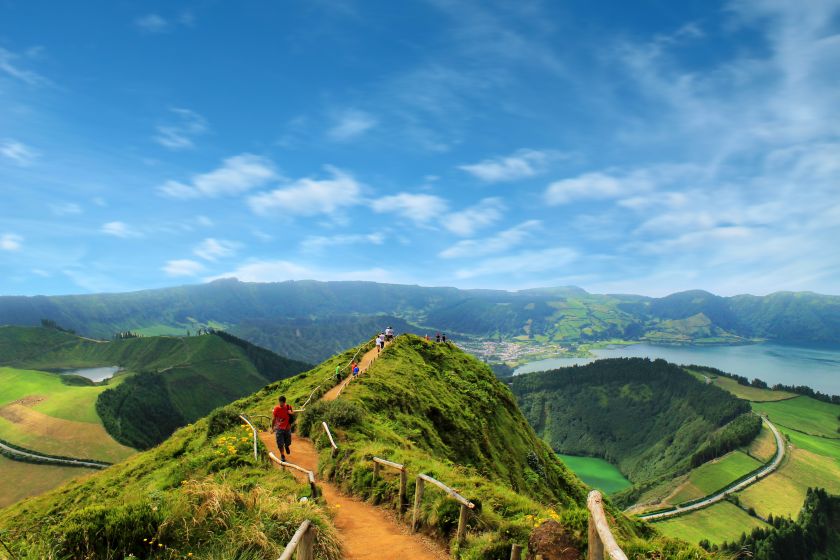 Madeira provides you with a safe investment, with one of the lowest crime rates in Europe, very good education and healthcare, and low pollution levels. Almost wherever you are on the island you will see stunning ocean views, and with nature close at hand, Madeira is a place of calm. Additionally, you will be able to enjoy fine dining, luxury restaurants, and the cosmopolitan vibes of Funchal, the capital city.
The real estate market in the Azores is not as well established as in Madeira. However, the brilliant green hills, stunning views from the scattering of miradouros (viewpoints), and quiet way of life definitely make up for it. You also have unique geothermal hot springs, pineapple plantations, and local delicacies typical of the islands at hand. The Azores' cheeses are famous, perhaps due to the abundance of cattle that you can see all over the island. It is worth noting that both islands have very unpredictable weather.
With a steady stream of expats snapping up properties in the islands, it's easy to understand why the real estate market is performing well here, and will increasingly continue to do so in the coming years.
Opportunities for 2022 and beyond
While Portugal did respond well to the COVID-19 pandemic—as seen with its status as one of the countries with the highest vaccination rates in the world—it is still going to be a relief when the real estate market is (more or less) back up and running to its full capacity in 2022. The Golden Visa changes will no doubt cause changes in investment patterns. However, it is likely that this will simply diversify investments across the country, opening the doors to some of the most beautiful landscapes in Portugal and instigating further developments.
If you are dreaming of investing in, or buying, the perfect home in Portugal whilst still qualifying for the Golden Visa Scheme, reach out to us in Goldcrest today. We'll also send you a comprehensive six-step guide to buying property in Portugal, including an exclusive chapter on the Portuguese Golden Visa. You will also be able to discover some of the most sublime, desirable locations that you will still be able to invest in even under the new rules.
Cover image credit: Anastasia Zolotnitskaya / Depositphotos
Join now!
Get free access to our community & exclusive content.
Don't worry, I won't spam you. You'll select your newsletter preference in the next step. Privacy policy.