⚠️ Important update: The Portuguese government announced that investments in real estate (including funds investing in real estate) as well as capital transfers will no longer qualify for the Golden Visa. However, for the time being it's still possible to submit applications. See here for the latest updates
⚠️ October 5, 2023 update: The last day to submit Golden Visa applications under the old rules will be tomorrow, October 6, 2023. From October 7 the new law will apply. This article will not be updated to reflect the new rules, but kept around for archiving purposes.
The new changes of the Golden Visa Program in Portugal have created a lot of online buzz and also quite a bit of confusion among investors. I work mainly with real estate investors and from my professional point of view, I would dare to claim that most of our clients would be able to make the same investment for the GV also in 2022. So what is the buzz about?
First of all, you need to understand that the Portuguese government loves GV applications because the country is interested in capital and qualified immigrants. Although the program has been used by only around 10.000 applicants since 2012, the impact of the investment has been extremely beneficial for the Portuguese economy. The total investment into Portugal as a direct result of the program has reached about 6 billion euros. That's nice!
But politicians also have to do what they do: politics. For example, they like to associate the golden visa investments in the real estate market with a significant price increase in recent years. However, the golden visa investment made only a small fraction of the total sales. In 2019 only 8,5% (19.520) of the total 230.776 real estate sales in Portugal were made by non-residents (can also be Portuguese), which were headed by investors from France and the UK (INE).
Typical scapegoat game of local politicians. The state did not invest in housing projects like other countries. Portugal has a 2% share of social housing while other countries in Europe reach up to 30%. Now there is a lack of housing for low-income groups. Who is to blame? The others.
In sum, my impression is that the government officially wanted to do something and also got the media attention that they needed. In November 2021 there was a vote in the parliament to stop the GV program based on a PAN (party for animal and environmental protection) petition. 85% of the parliament voted in favor of the GV program. Does anybody want to get rid of the program? Obviously not.
Those who are interested in making an investment for residency in Portugal can still do it starting with a 280k investment, which is a very accessible amount and can not only obtain citizenship together with all the Portuguese and European advantages—but also enjoy a newly renovated house (or houses) next to historical villages, cities, and breathtaking landscapes.
What are the differences between the old and the new rules?
There will be two main changes to the Portuguese Golden Visa in 2022:
one is regarding the amount of investment, which will be higher for capital transfers, cultural investments, and funds;

and the second is about the real estate investment locations.
What is quite confusing regarding the real estate location is that the new rules now have two regional parameters that determine your investment:
A: "low-density" / "high-density regions", and
B: "interior" / "non-interior" regions.
It looks complicated but it is quite easy if you understand the practical implications.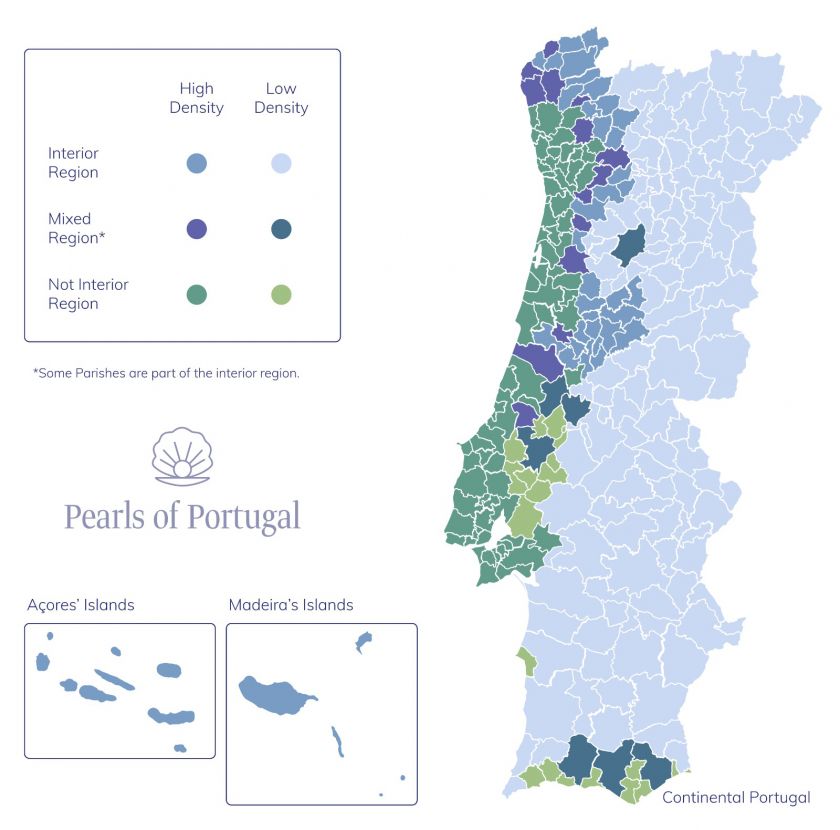 The "density" factor basically determines the minimum investment thresholds you have to meet for the GV application. The values in low-density areas are 280k with renovation and 400k without renovation while the high-density areas are 350k with renovation and 500k without renovation.
Low-density areas are determined by so-called "NUTS 3 regions" and have fewer than 100 inhabitants per km2 or a GDP per capita of less than 75% of the national average. The low-density areas can change and have to be checked with SEF at least every six months. I recommend checking this low-density status before the investment with the relevant city hall.
The new regional parameter is the "interior parameter" and defines the investment types in real estate you can do for the GV. In "interior areas" you can buy residential or non-residential (commercial, service or industrial) properties. In "non-interior" you can invest in non-residential properties like tourist complexes, offices, hotels, stores, etc.
The definition of what is considered interior is defined by a fixed map that was published a couple of years ago. So this parameter is more constant than the "density" definition.
What are the practical implications? When we from Pearls of Portugal work with a client, we define in a first step the type of investment together with the client and then find the right area based on the two regional parameters. So for example a 280k renovation project in a touristic condo could be done in which interesting regions? We also have clients that look the other way around. They know where to invest and then we define the type of property options in those regions that are eligible for the GV.
"Interior" or "low-density" do not mean "low return" - on the contrary. The investment prices in these areas are quite low while at the same time you have strong tourism. European visitors are looking more and more for areas where they can find digital detox. Urban rental properties suffered during the Corona crisis while low-density properties continued their strong increase in demand. The downside in these areas is the fact that reselling is not as fast as in urban areas.
Will it be possible to invest in Lisbon, Porto, and Algarve?
Yes. It will be possible to invest in Lisbon, Porto, and Algarve, the so-called non-interior areas, in non-residential properties such as offices, hotels, tourist complexes, and even local accommodation (Airbnb apartments with a service license).
The only investments that no longer qualify are residential investments in non-interior areas. So if you want to buy an apartment for the GV in Lisbon and live there permanently, it is not possible anymore with respect to the Golden Visa application. Those who just want to live for a few weeks in Portugal can also invest in non-residential accommodations in non-interior areas and rent them out the rest of the time.
If you need help understanding the new rules or support finding the right real estate for your GV investment, feel free to contact me.
Join now!
Get free access to our community & exclusive content.
Don't worry, I won't spam you. You'll select your newsletter preference in the next step. Privacy policy.