⚠️ Important update: The Portuguese government announced that investments in real estate (including funds investing in real estate) as well as capital transfers will no longer qualify for the Golden Visa. However, for the time being it's still possible to submit applications. See here for the latest updates
⚠️ October 5, 2023 update: The last day to submit Golden Visa applications under the old rules will be tomorrow, October 6, 2023. From October 7 the new law will apply. This article will not be updated to reflect the new rules, but kept around for archiving purposes.
After years of rumors and speculation, on January 1, 2022 Portugal's Golden Visa program changed drastically.
The actual updates to the law were published in February 2021, so potential applicants had time to adjust.
You may not like the new rules, but at least now they are official. Let's take a look at what has changed and what you should do about it.
2022 update: This article was originally published prior to the changes taking effect, but I've now updated it with all the final details and what your strategy should be after the changes to the Golden Visa program in 2022 onwards. I also noticed that pretty much all the maps out there showing the allowed real estate regions in 2022 were inaccurate, so I created a new one and shared all the assumptions and sources used, so you can verify for yourself that it's correct.
What has changed in 2022
No more residential real estate investments in Lisbon, Porto, or along the coast
If you want to qualify for the Portuguese Golden Visa through direct residential real estate investment, you can no longer invest in the two largest cities of Portugal, nor along large parts of the coast of the mainland. That includes the large parts of the Algarve, the "silver coast", Sintra, and so on.
From January 1, 2022, you can only make qualifying investments in the interior of mainland Portugal (the approved municipalities and parishes are listed on pages 2-4 in this document—concelho means municipality and freguesia means parish), as well as in the autonomous regions of Madeira and the Azores. There may be some changes to this based on litigation, but to be on the safe side, it's better to assume that this list is correct.
The law specifically only refers to real estate meant for housing ("habitação"), which means that investments in commercial real estate—such as hotels and pre-approved tourist apartments (alojamento local)—are still allowed in these regions in 2022 and beyond.
Portugal already applied a distinction to the Golden Visa program where investments in low-density areas got a 20% "discount" compared to elsewhere in the country—making the regular real estate investment threshold €400,000, and just €280,000 for qualifying refurbishment projects of old buildings and within special urban rehabilitation zones.
✨ New feature: We just launched a new Portugal Golden Visa real estate search engine where you can input any address in Portugal and it'll tell you whether it's low- or high-density and whether residential investments are allowed or not.
Combining these discounted low-density areas with the new distinction between "interior" and "non-interior" areas that determine whether residential real estate investments are allowed or not, I've created this map that hopefully help you visualize which areas of Portugal that are open for which kind of investment: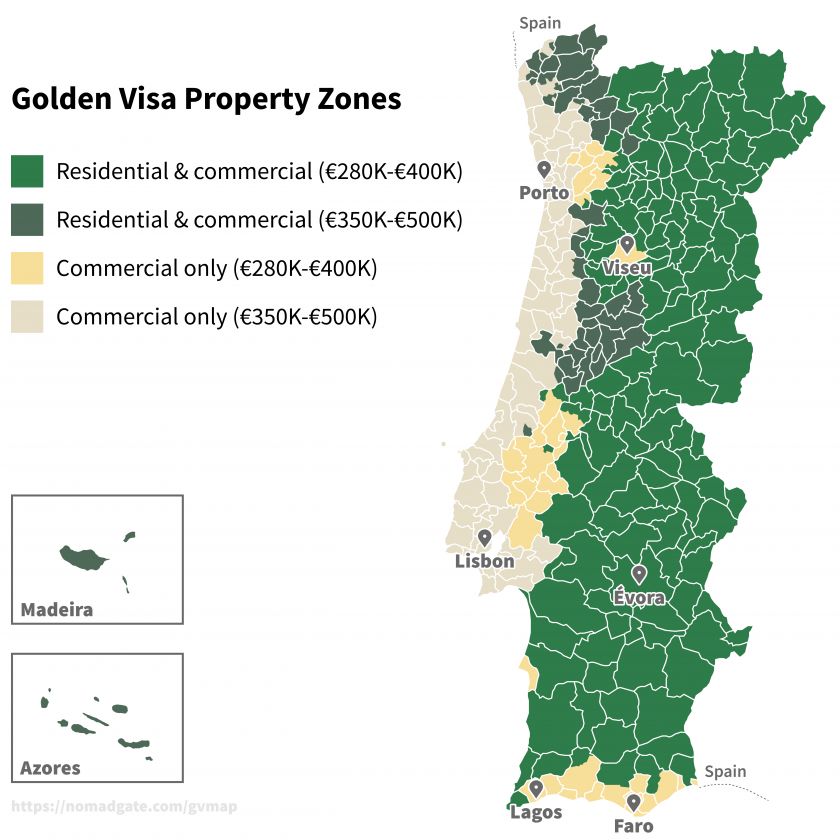 Note that there have been many similar maps floating around that are just straight-up inaccurate (even from some of Portugal's largest Golden Visa agents, who should definitely know better). If you click the link in the caption above I've explained all the assumtions and sources for generating this map in detail. That way you and your lawyer can easily verify the accuracy of the map.
In short, there are at least three critical problems that I've seen with other maps:
The high/low-density areas are determined not at the municipality level but on the so-called NUTS III level, which is an EU-standardized statistical subdivision of Portugal. This means that many otherwise high-density cities and town are considered low-density due to being located in an otherwise low-density region. This is for example the case for all of the popular Algarve region.
The high/low-density areas are not only determined by the average population density in the region (with the threshold being 100 residents per square kilometer). They are also determined by the GDP per capita in the region (with the threshold being 75% of the national GDP per capita). Below either threshold and the whole region counts as low-density. These numbers may change from year to year, so the maps should be updated at least yearly (I used the most recent data available in January 2022).
The interior/non-interior areas that determine whether an investment in residential real estate is allowed are, for the most part, determined at the municipality level. However, some (often larger) municipalities are divided at the parish level. Most maps seem to just denote that whole municipality as "mixed", making it seem like there may be a chance of finding coastal properties that qualify within that municipality. That's actually never the case. For the map above, I've made an effort to draw the actual borders of the interior/non-interior areas, no matter if that's along the lines of municipalities or parishes.
Webinar Alert: The Future of Portugal's Golden Visa Program 2022 - Hotel Investment Option

Hosted by: Mercan Group

📼 Watch webinar replay
Increased minimum investments for funds: €500,000
While the limitations on real estate investments along the coast had been expected for some years, many had hoped that the investment fund route would prove to be a good alternative for those wanting a high-quality investment at a reasonable entry price.
It may still prove to be a popular path, but the increase from €350,000 to €500,000 minimum investment may put some people off the idea.
Luckily, there are still plenty of funds to pick from. You can even split your investment between several funds, further diversifying your investment.
Webinar Alert: Golden Visa fund route for US investors and PFIC demystification

Hosted by: Optylon Krea

📼 Watch webinar replay
Webinar Alert: Portugal Golden Visa Trends for 2022

Hosted by: Pela Terra

📼 Watch webinar replay
Increased minimums for other capital transfer routes
While less popular than the fund and real estate routes, it's worth noting that the other capital transfer options are also seeing their minimums increase. The R&D route and company formation options are increasing from €350,000 to €500,000, and the pure "transfer a bunch of money to a Portuguese bank account and let it sit there" option will now require a €1.5 million commitment rather than the previous €1 million.
What is not changing?
If you had plans of launching a Portuguese company employing at least 10 locals or making a €250,000 investment in support of the arts, well, then you're in luck: Nothing has changed for these options.
Also important to note: None of the changes will apply retroactively to anyone who applied before 2022.
In other words, those of you who applied for the Golden Visa by December 31, 2021 (including proof of completed investment) don't need to worry—you'll be grandfathered into the old rules, including for any future renewals of your status.
What should you do about the 2022 changes?
If you were planning to invest in residential real estate in Lisbon, Porto, or along the coast, then you have already missed the train.
If you're set on finding a place to live for you and your family in these areas, my recommendation would be to go with the most affordable and easy to manage investment possible (now typically managed commercial real estate in a low-density urban rehabilitation area which starts at €280,000) to start the Golden Visa clock. Then take your time to find a home for your family where it makes most sense for you, with no time or cost pressure due to needing to meet Golden Visa requirements.
Some reputable developers, such as Mercan (who has been by far the most popular developer among Nomad Gate readers) offer several commercial hotel development projects around Portugal, which you can invest in for €280,000 or €350,000 depending on the area (with guaranteed buyback once you receive your citizenship or permanent residency).
They often cover VAT and transaction taxes that usually come on top of the purchase price, too. And since they help hundreds of investors every year they know the processes better than probably anyone, so they'll make sure everything is taken care of and goes smoothly.
If you prefer the ease of managing a fund investment, you'll have to shell out €500,000. If that's not an issue for you, then it's still an attractive (and usually tax-efficient) investment path. While never guaranteed, many of the funds are targeting higher returns than what you'd expect to get in the real estate market, plus they are usually more diversified than just investing a single property.
But as mentioned, managed commercial real estate is also a good hands-off investment option if the investment amount is important to you, and if you go with a reputable developer it'll be easy to complete everything up until the SEF biometrics appointment remotely.
No matter which path you choose, you can already start the preparations so you'll save time once you've decided on your investment. Check out my guides for getting a Portuguese tax number (NIF) and opening a Portuguese bank account, both are also possible remotely.
Other things that you may need for your application should probably wait a bit longer. Even though that in many countries (e.g. the United States) it may take a few months to get an apostilled copy of your criminal records, for example, these have limited validity (3 months), so it's better to only request them twice: Before submitting your online application and once you know the date of your in-person biometrics appointment.
If you haven't already, I'd recommend reading our full, updated guide to Portugal's Golden Visa. And to get started with the application process, check out the list of the most popular law firms among our readers.
Join now!
Get free access to our community & exclusive content.
Don't worry, I won't spam you. You'll select your newsletter preference in the next step. Privacy policy.