Anyone who is nearing or at retirement age wants to protect his or her hard-earned pension. Many want to do this in a safe country with a warm climate, friendly people and a great lifestyle. People from outside Europe aspire to have free access to, or live on, the "Old Continent". Those who look out over the Algarve's golden cliffs often realize that the Portuguese Golden Visa could be the right solution to residence in Europe, and the region the place to be.
The Portuguese Residency by Investment (better known as the Golden Visa or GV) was launched by the Portuguese government in October 2012. It is a fast track method for foreign investors from non-EU countries to obtain an authorization to reside in Portugal.
The most popular route to investment is via the purchase of real estate, and more than €4 billion has been spent by investors in obtaining the Portuguese GV in this way.
Before embarking on a search for the ideal Golden Visa investment, consider where you are likely to find these opportunities. The €500K GV covers any part of the country and any combination of properties. Invest in a low-density area and see the requirement drop by 20%. Tackle the refurbishment of a town center building older than 30 years and benefit from the €350K GV level. Nonetheless, it is rare to find investors who have paid anything less than €500,000 for their visa (with many paying more).
Table of Contents:

Where has the Portuguese Golden Visa been most popular?
Am I paying fair value for my Golden Visa property?
Comparison of the main Golden Visa markets
Where to find cheaper but desirable GV properties
Algarve: Best Place in the World to Retire
Examples of €350,000 and €400,000 GV properties
Portugal Senior Living
Special offer for Nomad Gate readers
Where has the Portuguese Golden Visa proved to be most popular?
Several reasons have been cited as to why the Portuguese Golden Visa, despite not being the cheapest, has been the most successful in Europe, by total investment, since the inception of the program in 2012. These include the requirement for limited permanence in the country (an average of 7 days per year), very favorable rules which allow for dependents to join the main Golden Visa applicant with a single visa (over 6,000 main visa applicants and more than 10,000 family member visas), and the strength of the Portuguese passport (ranked 3rd most powerful in the world as ranked by www.passportindex.org).
However, the truth is that, as in many destinations, this growth is driven largely by external factors. This is the reason why Greece, which has seen a huge inflow from the Chinese market, has for the first time overtaken Portugal as the country receiving the most GV investment by value. While local residents and politicians may of course espouse the charms and added value of any one country, the fact of the matter is that the Golden Visa applicant is increasingly focused on value for money.
By far the largest proportion of Golden Visas issued to date (approximately 65%) has been to Chinese investors looking to find an investment destination for funds held either in China or (given the strict restrictions relating to capital outflow from that country) elsewhere in the world. They represent around €3 billion of FDI (foreign direct investment) with Lisbon taking the lion's share of this investment.
Because the motivation of the Chinese market is access to the European market and to place funds offshore (i.e. outside China), value has been a secondary consideration. This led to an inflationary pressure, which translated into a rapid increase in prices in the capital. Initially, new build construction, which had been absent from the market since the 2008/9 crisis, was the primary beneficiary of this interest and pricing, with most 2-bedroom new-build apartments priced at €500,000. As new-build stock disappeared, then refurbished stock in older buildings stepped up to take its place, with prices moving towards €500,000. With prices per square meter in some areas comparing to those in some arrondissements in Paris, it is clear that there are pockets of real estate in the city which are inflated. This does not mean that all deals are poor deals, but it is very much buyer beware because, while it may be an "easy" solution to match a property to the Golden Visa level, there are often cheaper properties available which, while not reaching the Golden Visa level, are better value for money.
In Lisbon, it is generally true to say that, while €350,000 historical refurbishment opportunities are theoretically in abundant supply, in practice, few if no such opportunities exist anymore. The Golden Visa level in the city for a 2-bedroom apartment hovers around €500,000 in historical areas, and trends towards this level in city bairros or neighborhoods which have a little less charm.
The direct consequence of the increase in values in Lisbon has been a shift of interest to Portugal's second city, Porto, which has undergone a similar trend of price increases. With a much more concentrated historical city center, Porto's historical city center properties quickly went through the €200,000 mark.
In both cities, a 3-year increase of as much as 60%, to levels thought previously to be completely unattainable, has changed the real estate market. It is worthwhile remembering that less than a decade ago, Lisbon's Baixa was spurned by everyone but the most ardent of its residents, with the government at loggerheads as to how to transform the historical center and reinvigorate its commerce. There is no question, however, that the inward investment has played a transformation role in the reinvigoration of the city centers of Portugal's two largest cities.
While 2019 has seen a slight reduction in the pace of growth (note, not a fall but a slowing in growth), seller expectations with 3 fantastic years means that very few downward adjustments in prices are evident. Following the success of the Golden Visa program, the introduction of the NHR (Non-Habitual Resident) regime which allows a 10-year tax-free exemption, has ensured that prices remain buoyant. The wave of Chinese investment has in part given way to French and Scandinavian money.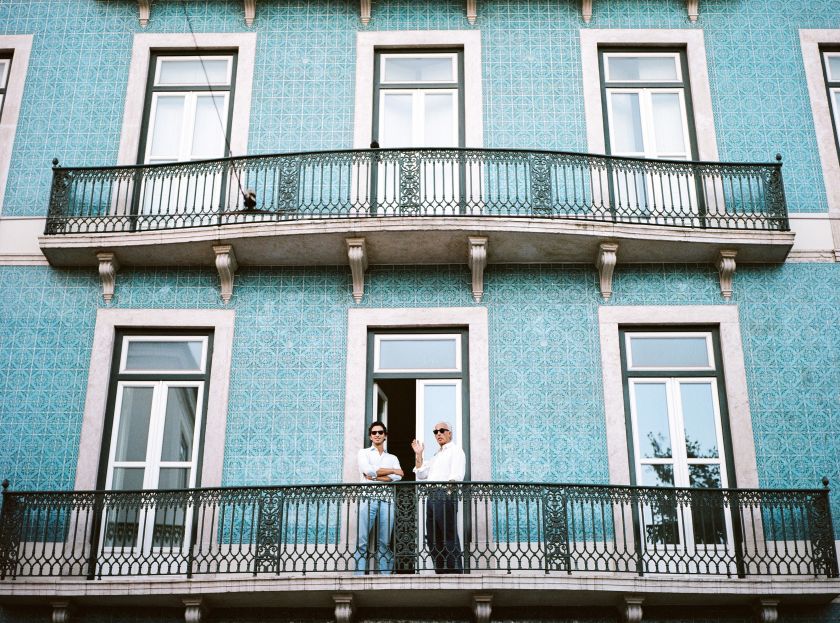 How do I know if I am paying fair value for my Golden Visa property?
The net result of the above situation is that it is very difficult for people to gauge objectively whether they are getting good value for their Golden Visa investments. While on the one hand, continued demand sees short sales times in both Lisbon and Porto, equally questions are often asked about how per square meter prices can be as high as other major European cities. Because French buyers represented 29% of all real estate purchases in 2017, the comparison with Paris is rife.
The pace of price increases, even if admittedly from a very low base caused by the financial crisis, has not been seen by most real estate agencies in their lifetimes. For this reason, some people have been saying that Lisbon in particular is exhibiting "bubble-like" characteristics.
Examples of that rules can be used as a basis for checking value-for-money of properties:
Price per square meter of a larger apartment equal to or higher than the price per square meter of a smaller apartment in the same building or immediate neighborhood (unless the larger apartment has a feature, such as a water view, which the smaller one does not have).
The expectation of both local and foreign clients is that properties, on average, are larger than in neighboring Spain. Avoid anything less than 25-35 m2 as too small to be generally commercially viable for all but the most niche markets.
For Golden Visa properties promising a rental return, determine the average monthly winter or long-term rent, and if the peak summer weekly rental is more than 10% higher than this value, get a second opinion.
Beware of areas or buildings where a single nationality represents a significant (typically > 50%) of buyers. Examples are areas such as Parque das Nações or Expo area which has a significant percentage of Chinese buyers and Príncipe Real which has many French buyers. Avoid buying from this nationality in that area.
Check date on which seller purchased the property. Avoid purchasing anything from 2015 at higher than previous transacted value. As the seller will not declare this value and no public records of transactions are kept, using a site such as Confidencial Imobiliário.
A quick comparison of the main Golden Visa markets to date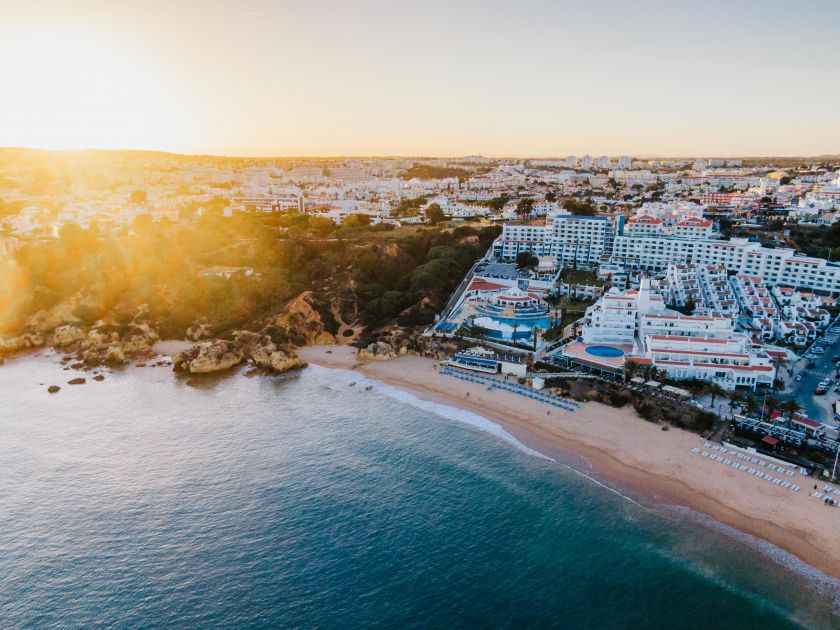 The two regions which have accumulated most Golden Visa investments are the greater Lisbon and Porto areas. Within Lisbon, it is worth highlighting the Cascais municipality, which has, for example, concentrated much of the interest from South Africans, who prefer suburban environments which resemble as much as possible, a lifestyle in Africa (more space, single family homes or villas, and gardens ideal for outdoor living).
The three main Golden Visa investment areas, Lisbon, Cascais and Porto, display different characteristics.
Lisbon is best for yield-bearing investments especially with the emergence of the city as a year-round destination (voted best city break, conference venue, European cruise destination, etc.). It is also the best destination for intercontinental connections from Portugal. As the country's capital, the concentration of cultural, gastronomic, historic, religious and social variety in a single location remain unmatched in the country. Public transport is also excellent.
Nonetheless, beyond the obvious real estate inflation which has resulted in a lowering of yields (for those interested in generating returns), and the increasing regulation on short-term lettings, Lisbon has also suffered a substantial population increase which places some of its areas at risk of losing their character.
Cascais is considered by many the suburban option to Lisbon, where Golden Visa investors could obtain a villa or single-family home on a larger plot for the price of an apartment in Lisbon. Those days are long gone and now, areas considered well outside the town center, such as Birre and Aldeia de Juzo and even areas such as Alcabideche and Alcoitão, are being marketed as "Cascais" as if within striking distance of the town center.
Living away from a city center but with easy (20-35 minute) access to Lisbon, Cascais continues to offer a good balance. It also offers more direct beach access than Lisbon itself, and has an established international community which is settled in a relatively small area. Any well-located property offers excellent long-term rental potential.
Nonetheless, most properties outside the routes covered by the municipality's Buscas route are expensive when compared to similar real estate in comparable areas of the country.
Porto is best for creating a small Golden Visa portfolio, of two to three properties, something which is now very difficult or impossible to do in the other two areas mentioned. Interest continues to be concentrated in the relatively small historical center. Porto is also excellent for those seeking real estate in a location with outstanding historical interest. Porto's international airport has seen as significant expansion of flight destinations.
Year-round demand is not as proven in Porto as in Lisbon, and long-term rentals attract lower values than in either Lisbon or Cascais. Porto will also be subject to limited, but similar, local lodging regulation due to some overtourism concerns.
After more than five years of increasing Golden Visa investments, a few changes indicate that the allure of the Portuguese Golden Visa in the country's traditional areas may be starting to fade a little. Portugal being overtaken by Greece, a drop in year-on-year Golden Visa inflows and in particular the drop by the largest foreign investor group, point to the fact that Golden Visa investors are looking for greater diversity and value.
Rather than seeing Portugal as a single country, it is useful for investors to understand where each real estate GV category can realistically be found, and which region best matches the priority of Golden Visa investors.
The Best Place in Portugal to find cheaper but highly desirable Golden Visa properties
Many people looking for the GV want to spend the lowest possible amount, and quickly find that the areas where that GV level is achievable is not where they wish to be. To help people quickly understand their options, we have created a small table which takes into account the desirability of the areas and the likelihood of finding a GV product in each price range, bearing in mind the growth of demand and prices in different locations.
|   | Porto | Silver Coast | Lisbon/ Cascais | Algarve | Inland |
| --- | --- | --- | --- | --- | --- |
| Golden Visa values | €350K+ | €350K+ | €350K+ | €350K+ | €280K+ |
| Probability €280K GV | 0 | ~0 | 0 | 0 | Medium |
| Probability €350K GV | Medium | ~0 | Low | Low | High |
| Probability €400K GV | 0 | 0 | 0 | Medium | Very high |
| Probability €500K GV | Very high | Very high | Very high | Very high | Very high |
| Probability €500K GV prime location | Good | Medium* | Low | Very high | 0* |
Algarve: Best Place in the World to Retire

Portugal's tourism crown jewels are the country's southernmost province, the Algarve, with beaches of golden sands, cliffs of golden light and sea of azure that many mistake for the Mediterranean. Even the cool Atlantic seems to be warmer in the Algarve, voted seven years in a row "Best Place in the World to Retire" by the Overseas Retirement Index.
The Algarve has mostly been overlooked until now as a destination for the Golden Visa, primarily for three reasons:
Those nationalities showing most interest to date, namely Chinese, Angolan, Middle East and some Brazilian, wanted urban locations;
Others who liked a more suburban feel, such as the Russians, Turks, Brazilians and South Africans, have mostly been shown Cascais by local agents. Here, few investors remain at the €500,000 level due to the upmarket location and property prices;
The Algarve has (relatively) little new build or recently refurbished inventory.
Nonetheless, the Algarve exhibits a few important differentiators when compared to the three regions above:
The price per square meter, on a like for like basis, is substantially lower than in the other regions (for example, a two bedroom apartment with an excellent sea view, in Lisbon, Cascais or Foz in Porto, will be as much as double or even more than one in a top location in the Algarve, such as Lagos)
As the country's number one tourist destination, summer prices versus property values, are better than most other regions. Despite continued marked seasonality, it is the region in the country which best combines weekly summer rentals with monthly winter lets for optimal yields (even Lisbon cannot compete because a property there is either short-term or long let, and rarely both)
It offers a lifestyle comparable with Cascais, a yield better than Lisbon and prices competitive with Porto
The weather is generally better than any of the other regions mentioned
Examples of Algarve €350,000 and €400,000 Golden Visa properties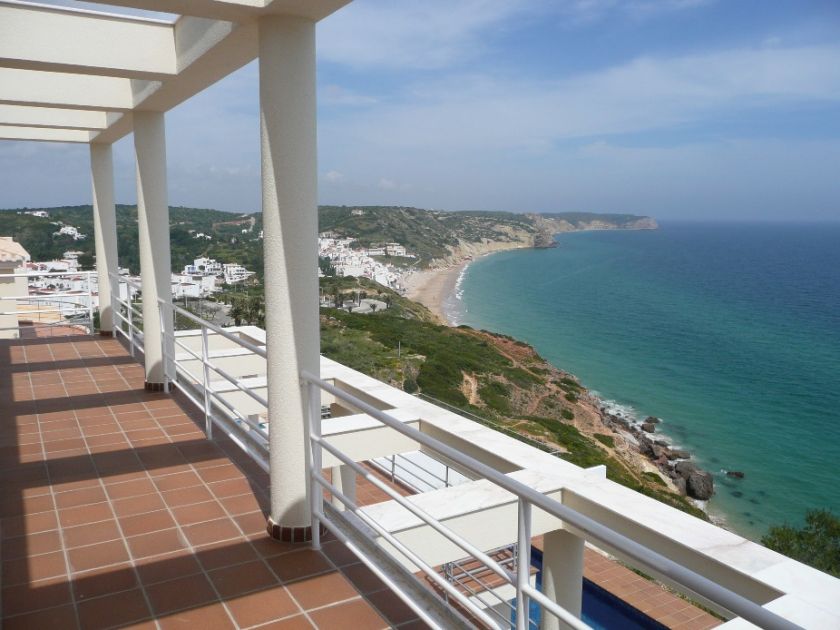 As can be seen from the table above, the Algarve offers the best mix of Golden Visa options and desirability, in Portugal.
Travel to the province's western-most municipality and you will find an area of stunning natural beauty, of imposing cliffs, mile-long beaches and natural parks. Because its natural landscape is mostly untouched by large-scale development, the number of residents is still low.
In this region, some fantastic Golden visa opportunities exist. Quality properties including on golf, seaside and eco resorts, are available in this municipality which continues to benefit from the Algarve's eight years of record-beating tourism as well as demand from permanent residents, many of whom retirees.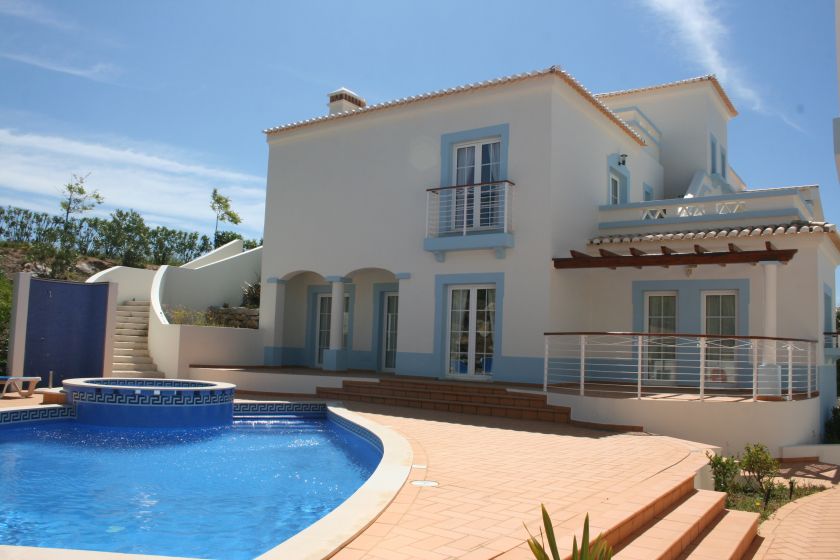 An example of a great Golden Visa deal on offer is this fully furnished executive 3-bedroom golf villa, with shared pool, expansive golf views and access to a wide range of amenities, for around €400,000. This property comes with a one-year 10% guaranteed gross return and has a proven rental yield of around 6% p.a. which can realistically be achieved thereafter. This is an excellent option for those who want to obtain the residency, and have a mix of lifestyle and investment in one home.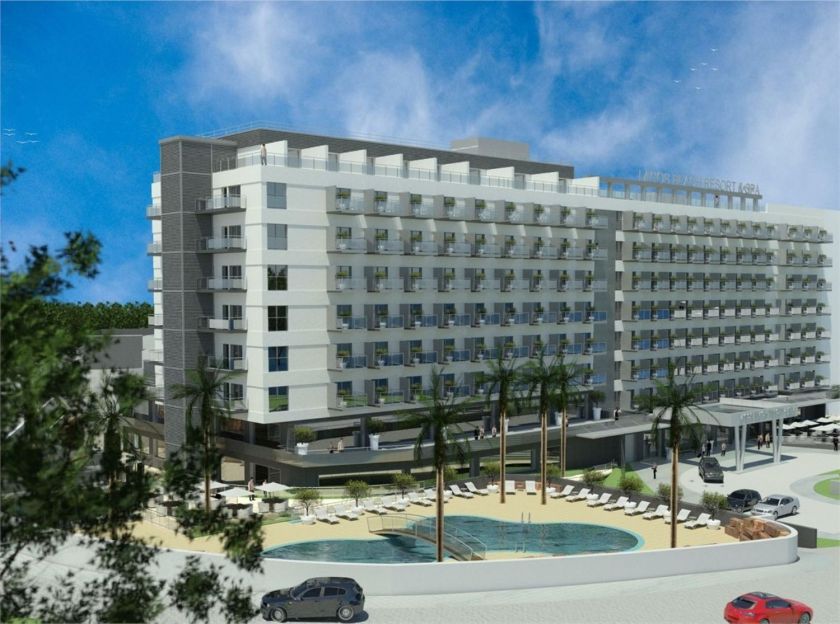 In Lagos, one of the region's most popular coastal cities, with year-round activity and a multinational resident population, a €350,000 Golden Visa opportunity in a prime location is available for investors who require minimal use. With a fixed 7% return over 15 years, and a guaranteed buyback after five (long enough to earn the Golden Visa), this opportunity is tailored for the investor who only intends to spend the minimum required time in the country.
Finding Golden Visa solutions at different levels is very much possible if you know where to look and have the right partner to guide you in your search!
Portugal Senior Living
Algarve Senior Living and Portugal Senior Living, both our brands, provide comprehensive solutions for the senior expatriate market, with a strong emphasis on the Algarve, as well as the Lisbon/Cascais/Estoril area.
We are a full service solution provider for the senior market, and the only company to offer long-term rentals (winters, full-year and 1 or 2 month "discovery" or try-before-you-decide stays) as well as properties for sale.
We have extensive experience in assisting EU and non-EU clients with researching Portugal as a retirement or investment destination, and helping them make the move (accommodation, settling in, etc). We also have experience in assisting with the Golden Visa process, which is a way of obtaining the right of residency via real estate purchase. We have recently launched an investment product at the lower Golden Visa level of €350,000 which should be of interest to many considering this route.
EU citizens can of course move freely to Portugal, although for UK citizens this automatic right will end after Brexit (the terms of which remain largely unclear). We also support many applicants with obtaining the Non-Habitual Resident (NHR) status which entitles eligible applicants to receive most foreign income (including many pensions) tax-free for a period of 10 years. This applies to any person with the right to residency and who spends at least 6 months in Portugal.
Special offer for Nomad Gate readers
For anyone contacting us through Nomad Gate, we provide a 20% discount off our greater Lisbon or Algarve Discovery Tours. If you purchase a property through our company, we will even refund the cost of the tour!
To get help planning your retirement and/or real estate investment in Portugal, leave your email in the form below:
Cover image credit: David Herraez Calzada / Depositphotos
Join now!
Get free access to our community & exclusive content.
Don't worry, I won't spam you. You'll select your newsletter preference in the next step. Privacy policy.