NOTE: A new version of this article is available here: The Best Estonian e‑Residency Service Providers, Compared
If you are someone with a global lifestyle or mindset, you probably have heard of Estonian e-Residency (the pioneer of e-residency programs). Don't worry if you haven't—you'll find everything you need to know about it in our Estonian e-Residency guide. In short, it gives you a digital identity and access to lots of Estonian government services, including founding and running a company. Currently, every one in six new companies registered in Estonia has been founded by e-residents.
But let's take a step back—why would you want a company in Estonia in the first place. "It's the country next to Russia, right? Or was it Russian that people speak there…? And the capital is Riga, isn't it?" These are the questions I normally get about Estonia.
Let's set the record straight—the capital is Tallinn and Estonians speak Estonian (which is similar to Finnish and nothing like Russian). And yes, it is situated right next to Russia (along with 13 other countries).
Estonia is still somewhat of a well-kept secret, but having a company based there is a huge advantage as 99% of government services are digital. This means you can get by without unwanted travel, long queues, and menial paperwork. For example, you can incorporate a business in just a couple of hours entirely online.
The Estonian business environment is very transparent and thriving, boasting the most unicorns per capita worldwide. It also has the world's best tax system (ranked number 1 seven years in a row). One unique feature is that Estonian companies aren't required to pay corporate income or capital gains tax if the revenue stays within the company. That means you will be able to reinvest it into your business (or financial markets, real estate, etc.) with your pretax money. This will also allow you to take full advantage of compound interest—often called the 8th world wonder—when building a nest egg for your retirement. For ideas, how to do that, check out our retirement savings and investment guide.
I could go on singing praises about Estonia's business environment, but I'll leave something for you to discover as well
.
For a quick overview, I have listed the minimum requirements you need to fulfill to register and run an Estonian company as an e-resident:
Get an e-Residency card. The process takes around one month, and you can pick it up from the Estonian embassy/consulate nearest to you. In total, there are pickup points in 45+ cities worldwide, including most recently São Paulo, Bangkok, Singapore, and Johannesburg.
Get an official address and contact person in Estonia. To be able to register your company, you need an official address in Estonia. If the company is run solely by non-residents, you're also required to have a contact person based in Estonia. The contact person does not have the right to act on behalf of your company but is responsible for receiving and forwarding important documents or letters. It can't be just any friend—it needs to be a legal/tax professional or an official service provider for companies.
Register your company. For e-residents, it's best to do that step through the e-residency service provider you have chosen, because you will also need to register a legal address and official contact person. The state fee for incorporation online is €190.
Open a bank account. You can find the best traditional and online bank options in our banking guide for Estonian e-residents.
Make a share capital contribution (min. €2,500). You don't necessarily have to make the share capital payment while opening the company. You can postpone it to a future date (even for several years if you'd like). However, as long as the share capital payment is not registered, you are personally responsible for €2,500 (in case of bankruptcy), and no dividend payments from the company are allowed.
Submit reports. Monthly reporting is required if your company is VAT-registered or you have employees in Estonia. Others only need to present the end of financial year reports. You have to register for VAT when your company's annual turnover is exceeding €40K.
Pay taxes—every business owner's favorite activity . The good news is that you can postpone paying most of your taxes into the future as long as you don't pay out dividends or salaries.
If I have sparked your interest in starting an Estonian company (or perhaps you already own one!), but some of the requirements are beginning to sound a bit daunting, then you'll probably appreciate the comparison of different service providers below.
For this article, I picked the ones that have tailored the necessary services specifically for e-residents and are registered as official partners of the e-Residency program. Most of them can help you with everything—starting from getting the e-Residency card, registering your company and virtual office to accounting, reporting, and tax advice.
To get a quick overview of the companies accepted as clients, services provided, and prices charged—have a look at the table below. The first six companies have chosen a pricing strategy that includes all essential services (business address & contact person, accounting, annual reporting) in one monthly fee. The following eight use individual pricing for these services. Neither is necessarily better or worse—you just need to decide what works well for your company's needs.
*VAT will be added to all of the prices except for TuneUp
**1 accounting document = 2 accounting entries for non-VAT companies and 3 accounting entries for VAT-registered companies
Service Providers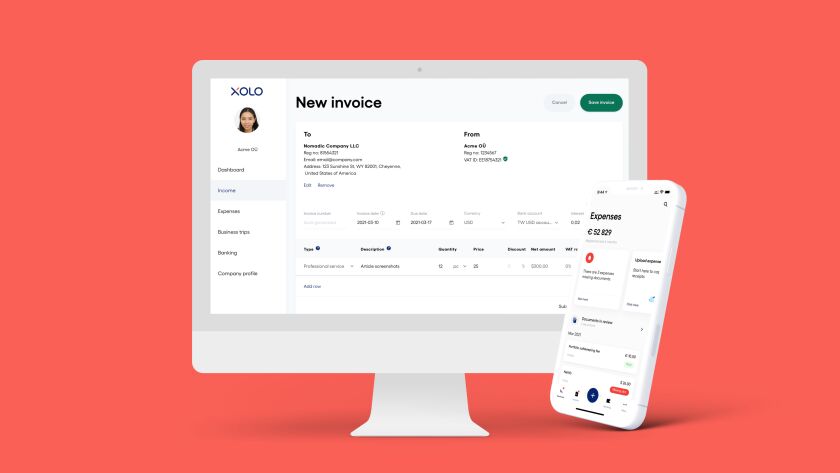 Xolo (formerly known as LeapIn) is the market leader in e-Residency services and the one you've most likely heard about before.
Having started back in 2015, they changed the field by offering their own custom-built platform instead of just consulting and accounting like other companies. Xolo targets clients that are solopreneurs operating in the digital world selling digital products or services.
They have monthly subscriptions with everything you need included in the plan, so you don't have to worry about any aspect of setting up or managing your Estonian company. For company registration, there is a one-time fee of €220, which includes the state fee (€190) and API integration fee.
Xolo will also help you get an Estonian bank account (LHV), and you'll only have to pay half of LHV's standard monthly fee. Their success rate with opening LHV bank accounts is 100%, as far as I know.
Xolo's user-friendly accounting software provides practically real-time imports of all your transactions from LHV, Wise, Stripe, and Paypal from any country.
Xolo doesn't work with companies that have been registered already—therefore, it's essential to begin the process with them from the start.
With Xolo you can choose between four different plans that suit your needs the best:
Xolo Go—meant for freelancers and allows you to send invoices using Xolo's legal entity. Therefore, you don't need to own a company or even an e-Residency. On the invoices, it will read "Xolo Go OÜ - Firstname Lastname", so your name will also appear in there. You can set it up in 10 minutes. There are no monthly fees, but you have to pay 5% for all outgoing payments. It is suitable for a small side hustle or a short-term project. If you are making more than €1,600 monthly, then Xolo Leap will become a cheaper option.
Xolo Leap—for €79 per month, you get your very own Estonian corporation (OÜ) with accounting, annual reports, VAT filing (including VAT MOSS), a contact person, business address, integration with LHV bank and Wise, templates for legal agreements for employees and partners, and general support. With this plan, you can add additional shareholders provided that they are also Estonian e-residents, or have full Estonian residency. Setting it up takes 2-3 days if you have an e-Residency card, or 4-5 weeks if you first need to apply for e-Residency.
Xolo LeapPRO—as an extra, you get unlimited transactions with Stripe and Paypal (or other merchant accounts) and can sell physical design products via print-on-demand (POD). It also allows you to pay a salary for up to 3 employees in Estonia. (Employees outside Estonia don't count towards this limit.) The monthly fee is €119.
Xolo Growth—very similar to the previous plan, but you get a personal accountant and salary payments for up to 10 people. It comes at the price of €199 per month.
Xolo at a glance
Highlights
All necessary services in one monthly subscription
As an official partner of LHV bank, they can get you an Estonian bank account, and you will only have to pay half of LHV's monthly fee
User-friendly interface including a professional invoicing tool and overview of cash flow
Integrated with LHV, Wise, Paypal, Stripe
Access to perhaps the most extensive e-Residency knowledge base available, answering pretty much any question you'll ever have about running your Estonian company
Has excellent reviews and offers great customer service
Things to note
They don't support e-commerce companies (e.g., dropshipping, Amazon FBA). They also don't offer their services to businesses requiring a license in Estonia (cryptocurrency, gambling, financial services, travel agencies, etc.)
You need to sign up with them at the same time as you register your business. If you have been running your Estonian company for a while, you will probably have to choose another service provider.
Special offer: Xolo is currently giving Nomad Gate's readers €100 credit when signing up through this link. They will also incorporate your company completely free of charge, waiving the usual €220 fee.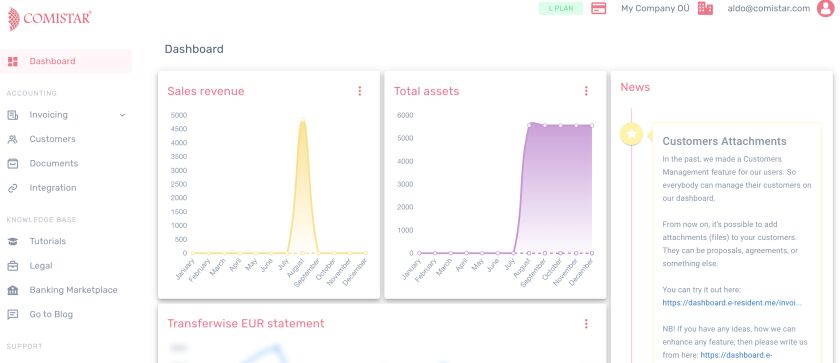 Comistar Estonia started its operation in 2013, and according to their website, they have served around 2,000 clients so far.
Their initial focus was offering tax advice to Scandinavian companies. At the end of 2017, they turned their attention to e-residents and especially blockchain companies. You can even pay in bitcoin for some of their services.
They cover both solopreneurs and multiple shareholder companies across a broad range of businesses, including companies selling physical products, companies that need a license to operate, and so forth.
Since they also work with more complicated and regulated businesses, their onboarding fee is higher than Xolo's (€350 vs. €220).
Comistar used to operate based on individual pricing, but they now offer monthly subscriptions and a custom software solution (called "Zero to Scale"):
Their cheapest S plan costs €25/mo and is meant for companies that don't need monthly accounting support. It provides a legal address and a contact person.
The most popular M plan pricing starts at €89 and includes an invoicing tool, monthly accounting, tax compliance, and annual reports. On top of that, they provide EORI and EU VIES registration—a must if you want to trade physical products across EU borders.
For more advanced features and more complicated company structures, they offer L and XL plans.
Their software is not entirely on par with Xolo's offering, especially in design and user-friendliness. But you will be able to keep track of your earnings, expenses, send invoices and have a direct integration with some fintech options.
Additionally, all of the plans give you access to informational and educational tools about e-Residency and growing your company, as well as a free biweekly e-Residency newsletter with regulatory updates and advice. On top of that, their banking marketplace and legal templates cover the most common business needs (employment contracts, shareholder decisions, etc.).
For an additional fee, they offer more complex tax advice and a wide range of legal services (shareholder agreements, stock option plans, funding & tokenization, privacy policy, etc.).
Comistar at a glance
Highlights
Accepts pretty much all types of companies
Several monthly subscriptions to choose from depending on the needs of your company
Direct integration with Wise and Revolut
Educational tools and a newsletter
Wide range of legal services
Things to note
No help with getting an Estonian bank account
Slightly more expensive than Xolo for solopreneurs offering digital services
Special offer: Comistar is currently offering Nomad Gate's readers a free 30-minute tax consultation (normally an extra €75) with your onboarding. Just tell them the code "NOMADGATE" when getting in touch.
e-Residency Hub started in 2017 and has gained over 700 customers by now. They charge a one-time fee of €215 for company registration and offer four different plans based on clients' needs:
The Ultralight plan is €10/mo and gives your company a legal business address and a contact person with mail forwarding. Out of all the service providers covered in this article, it's the cheapest option, but it is only available for the first six months.
The Lightweight plan at €59/mo is intended for entry-level and small-scale businesses. With this plan, you will get additional support for opening a bank account and monthly accounting. Their official banking partners are Wise, Payoneer, and LHV bank, but they can also work with other payment providers. Accounting services are limited to 2 bank accounts and 3 currencies, and there can be no more than 15 invoices or payments per month. They also provide you with accounting software to keep track, include annual reports and payroll management for up to 3 Estonian employees. This package is cheaper compared to Xolo or Comistar, but it is more restrictive due to the limit of 15 invoices.
The Standard plan at €75/mo is aimed at businesses that have already taken off, and it provides processing of 40 invoices/payments per month.
Packages for physical product sellers and SaaS providers start from €99/mo.
They also have pretty good educational articles and FAQs relevant to e-residents on their website.
e-Residency Hub at a glance
Highlights
The cheapest option for obtaining a legal address & contact person and reasonable prices for monthly packages
All necessary services in one monthly subscription
Partnered with Wise, Payoneer, and LHV bank
Accounting software included in the package
E-commerce companies are accepted
Things to note
Crypto companies are not accepted
The number of invoices/payments per month are limited
SuccessHub was founded in 2019, and they aim to provide a personalized experience for everyone and work with a wide range of businesses. Multiple shareholders, SaaS, physical product sellers, Amazon FBA, cryptocurrency companies are all accepted.
Their company incorporation fee is €359, and they offer three fixed priced plans:
Kick Off Success—for the fee of €99/mo, they provide you with a legal address and contact person (with mail handling for up to 10 letters). You will also get accounting for up to 25 entries with multiple currencies accepted and support for opening a bank account.
High Success— €179/mo. It adds VAT number registration, payroll management for up to 3 Estonian employees, and a double amount of accounting entries.
Ultimate Success—the fee is €349, and with this plan, you will get processing for up to 100 accounting entries and use their virtual office service with mail handling for up to 50 letters per month. They provide you with an Estonian SIM card and even let you work in their city center office 3 times per month.
If the Ultimate Success plan is not sufficient, you can opt for a custom plan with a personalized amount of accounting entries. They also provide digital marketing and brand identity support, legal advice, EORI number registration, and even visa support with this plan.
SuccessHub at a glance
Highlights
They work with most types of companies
Several plans according to the needs of your business
Additional services include legal and patent advice, licensing, digital marketing, etc.
Things to note
Prices are not as low as some competitors
Limited accounting entries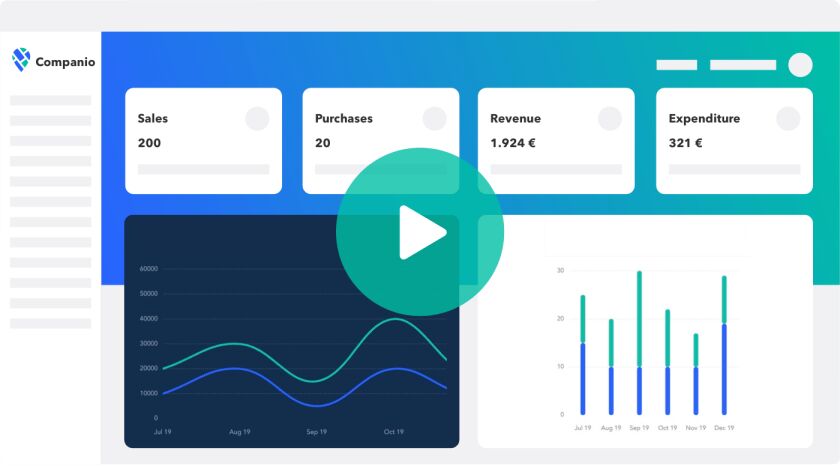 Your Company in Estonia was founded 100% by e-residents. It now has employees from all around the world, communicating in various languages. According to their website, their goal is not to be the cheapest service provider but the best one.
Their company set-up fee is 390 euros, with two different plans on offer:
Freelance company—meant for single shareholder companies. The monthly fee is €79 (just like Xolo Leap), and it includes a business address, contact person, monthly accounting of up to 20 invoices per month, and annual reports. It also has an interface for opening and managing your company, which can be integrated with Wise, LHV, Stripe, and Mollie. According to their website, they will add Revolut Business and Payoneer soon as well.
Remote company—suitable for those that do not qualify for the freelance plan (e.g. multiple shareholders or e-commerce businesses). The monthly price starts from €99 and goes up depending on the number of invoices to be processed. With this plan, you can have multi-currency accounting together with employee payroll management. They can provide integration with 16 different banking/payment solutions. You will get automatic processing of transactions and invoice reconciliation, but the statements need to be uploaded manually.
If you are currently using a different provider for your e-residency services and want to change, there is an option to switch over for €199.
Additionally, they offer consulting calls regarding e-residency to help you set up a company and deal with legislation and taxes both in Estonia and internationally.
If you are interested in tackling your own accounting, they also offer an accounting 101 course on their website, along with a newsletter and blog posts with additional helpful information.
Your Company in Estonia at a glance
Highlights
Available for most types of companies (multi-shareholder, e-commerce, crypto, MOSS businesses, travel agents, etc.)
Monthly subscriptions include all the services you need
A wide range of payment providers to choose from, including an Estonian bank (LHV)
Provides a software Companio for opening and managing your business. You get an invoicing tool, accounting reconciliation, integration with up to 16 payment/banking solutions, an overview of your revenue and expenses, etc.
Support in multiple languages: English, Spanish, French, Russian, Ukrainian
Things to note
The freelance plan is limited to a maximum of 20 invoices per month
Higher onboarding fee compared to some other service providers
Incorporate was founded in 2009, providing corporate services before the e-residency program began in 2014. With their local connections and expertise, they aim to help people establish and manage a remote and paper-free company based in the EU. So far, they have helped over 1000 companies set up their e-residency business.
They offer three different plans depending on your business size and needs. They are based on a monthly subscription. Bear in mind though that you will also have to pay some one-time and annual fees related to starting up your business (like the incorporation state fee of 190 euros), as these are not included in the price.
Their plans are the following:
Do it yourself—for their cheapest plan at just 12 euros per month, Incorporate will set you up with a legal address and the mandatory contact person, together with mail digitization and forwarding service. It's called do it yourself because, unlike the other plans, they do not cover any of the typical administrative tasks that come with having a remote business, such as accounting and invoicing services. They also leave creating the company up to you. It's a no-fuss option for low-maintenance freelancers who just want the minimum required.

Digital Nomad—specially designed for those who are freelancers, global entrepreneurs, and micro-business owners who don't want to deal with the administration side of things alone. Incorporate will take care of these things with their Digital Nomad plan for 65 euros per month. They say that they can get your remote company set up in Estonia in just one business day, and after that will take care of any daily management tasks that come with being a freelancing digital nomad, such as accounting services and helping you get set up with a payment account. They will also help you out if you wish to apply for Estonia's digital nomad visa, giving you access to the Schengen area for one year.

Business Pro—their most premium option is designed for small and medium business owners and comes with everything you get in the Digital Nomad plan (minus the digital nomad visa support), plus help with additional administrative needs that come with having a larger business. This includes help with HR needs such as registering your employees in the employment register, health insurance administration, and payroll, as well as support with filing your monthly tax reports and annual reports. Basically, for 95 euros per month, they will take care of all administration, so that you can focus on growing your business.
Incorporate at a glance
Highlights
They work with most types of companies, including cryptocurrency companies
Several plans according to business needs
Monthly subscription
Will help you apply for e-Residency if you haven't done so already
Things to note
Higher prices than competitors
Legal and financial consulting comes at an extra cost
Special offer: If you are interested in giving it a try, Nomad Gate will readers get 20% off their first month if you mention the code "DN13OFFNGAT" for the Digital Nomad package, and "BP19OFFNGAT" for the Business Pro during the registration.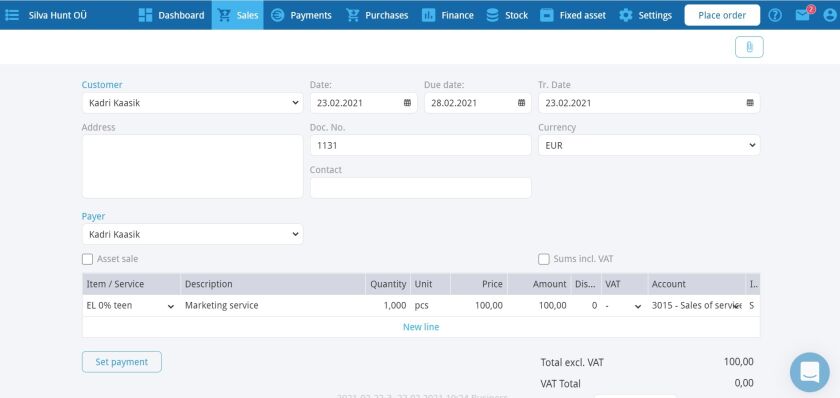 Founded by an experienced team of e-residents and local law and tax experts, Silva Hunt likes to emphasize that they are not suitable for everyone. They solely target advanced businesses and mature entrepreneurs, tackling more complex needs such as dealing with physical goods and holding companies. It seeks long-term partnerships rather than offering a quick and easy service.
Their onboarding is rather extensive, although more costly than other plans. The standard onboarding for €555 includes incorporation, VAT registration, mapping company needs and goals, and tax consultation. However, for €899, you can also get a more personalized onboarding with a trip to Tallinn for e-Residency networking opportunities thrown in the mix.
Their packages start at a monthly rate of €349, which meets all e-resident's company needs such as a legal address, contact person, accounting for up to 50 payments, annual reports, and monthly 2-hour tax and legal consultations. Where clients don't use the monthly counsels, Silva Hunt also offers tax and legal audits to minimize risk and give suggestions.
A popular option for entrepreneurs looking to start a holding company is Silva Hunt's holding package at €700/year. It comes with 50 accounting entries per year and places a much bigger focus on networking with local companies and the e-Resident community. They offer additional consultations ad-hoc, as well as a variety of workshops, talks and 'mastermind gatherings'.
Silva Hunt at a glance
Highlights
Covers more complex businesses such as those with physical goods and holding companies
Good networking support, including membership of EERICA (Estonian e-Residents International Chamber Association)
The team has extensive experience. Their CEO has 20 years of tax law experience and was a former head of a legal department of the Estonian Tax and Customs board.
Accounting software, where you can just take a picture of your receipts with their app, and it will be uploaded into the system
Things to note
Quite selective and does not permit first-time business owners or solopreneurs
Higher fees than average
Special offer: Silva Hunt is currently giving Nomad Gate's readers free consultation to evaluate if forming an Estonian company is the right solution for your business. Just mention the code "NOMADGATE" during the registration.
Although it has a similar name to Your Company in Estonia, it is an entirely unrelated business. However, they also have a very international team that can provide support in Latvian, Lithuanian, and Russian in addition to English and Estonian.
Besides standard e-residency solutions, they have broadened their offering into secretary services, market analyses, search for customers, recruitment, and renting/purchasing real estate. They also offer the more usual additional services like tax, legal, and business incorporation consulting.
Like Comistar, they can also help you with setting up a licensed crypto-currency business.
Their company set-up service starts from €290 (+€190 for the state fee). You will also need the legal address and contact person—costing you €400 per year.
Accounting services for non-VAT registered companies are €50/mo, and VAT registered companies start from €100/mo. The price does not include annual reports, VAT, and EORI registration.
Company in Estonia at a glance
Highlights
Provides additional services (e.g., recruitment, searching for customers, secretary services)
They also work with cryptocurrency companies
Things to note
A virtual office with a contact person is expensive compared to competitors (€400 per year)
Accounting price does not include all the necessary services
1Office are a team of experienced accountants, lawyers, and tax advisors that have helped over 4000 companies from various industries with their business services. While they are based primarily in Estonia, they have 6 offices in Europe and also cover business services in the other Baltic countries, as well as Finland, Sweden and the UK.
You can purchase all of their services a la carte, however they also offer starting packages which include everything needed for the first year of your e-Residency journey. The package costs 640 euros for those who already have their e-Residency card. For non-residents, the package costs 695 euros, and comes with support for applying for the e-residency card. Both packages include incorporation of a company with up to 2 founders (additional founders for a higher fee) done in 1-2 days, mandatory legal address and contact person for one year, mail forwarding and sorting for up to 10 letters per month, the state fee of 190 euros, and other support services during the process.
1Office also offers an e-commerce package for Shopify sellers, making it easier to sell across the EU together with Estonian e-residency. It's an all-in-one starting package which include all the necessary services and registrations needed to be come a Shopify seller in the EU, such as VAT and OSS/IOSS registration, Shopify account opening, domain registration and company incorporation in Estonia.
They offer a range of other services on top of this package, that should cover most of the main business needs of a remote company, such as accounting services from 65 euros per month, legal and tax consultations, secretarial services, and filing annual reports.
1Office at a glance
Highlights
Has long expertise in the market across several industries.
Flexibility accounting options, from self-accounting to a dedicated accountant.
Straightforward managing system through their platform My1Office.
Things to note
Lack of monthly subscription services on website. Monthly subscription services available by contacting sales managers
Slightly more expensive than main competitors.
Special offer: For our readers, 1Office is offering a 10% client discount on their starting packages for e-Residents and for non-residents. Just use the coupon code "NOMADGATE" through the eshop.

In addition to that, they will also offer 5% off their starting package for Shopify sellers, just use the coupon code "SHOPIFYBIZ" through their e-shop.
Eesti Consulting was founded in 2018, and it operates in Estonia and Poland. It provides a wide range of services and works with companies that some other providers exclude (e-commerce and cryptocurrency).
The e-Residency company set-up plan costs €390 (+€190 for the state fee). It includes company registration and an office address together with a contact person for one year.
They can also help you attain an Estonian bank account (Swedbank or LHV), but they don't give any guarantees. The handling fee is €30, and there is a success fee of €300 if you receive a favorable decision. They also have a service for a payment institution account or a Swiss bank account with different pricing.
Their accounting services come at €50/mo for companies that are not VAT registered and €100/mo for those that are. You get 30 min of consultation time with your accountant and up to 20 transactions handled for this price. If you need more, there is an extra charge. Also, the end of the financial year report is an additional €40.
Additionally, they provide support for cryptocurrency business licensing with the price starting from €5,000. Or you can purchase a company that already has two licenses issued for €7,000.
Eesti Consulting at a glance
Highlights
They offer services also for companies that a lot of service providers don't work with
They provide help with getting a bank account (although no guarantees are given)
They can help you with getting a cryptocurrency license
Things to note
The prices are not the most affordable compared to others
Their website is quite painful to read because of a vast amount of spelling errors
Lettica has offered business solutions since 2012, and they became an official e-Residency service provider in 2015. Their services include company formation, liquidation, business address & contact person, accounting, and assistance to set up a bank account. You can purchase all of these services directly from their website through the shopping cart.
In general, they charge more for their services compared to others. Their registration package costs €659, and it includes the legal address and contact person for one year. Starting from the second year, they will charge €250/year (or €150/year for dormant companies with no activity) for the address and contact person. There is also an option to pay for it monthly.
Accounting prices can vary by industry, but generally, they start from €50/mo, which will cover up to 10 documents. Accounting for Amazon FBA companies starts from €110/mo and crypto businesses from €200/mo.
They also offer bank account opening assistance either for LHV or TBB banks in Estonia or for fintech alternatives. This service costs €250, and getting a bank account is not guaranteed as the banks have the last word regarding the decision.
They also offer a crypto company registration; however, it comes at quite a high price at €15,000.
Lettica at a glance
Highlights
They accept a wide range of businesses as clients
They do crypto company incorporations and assist with licenses
Things to note
High prices
They charge a hefty fee for their assistance to open a bank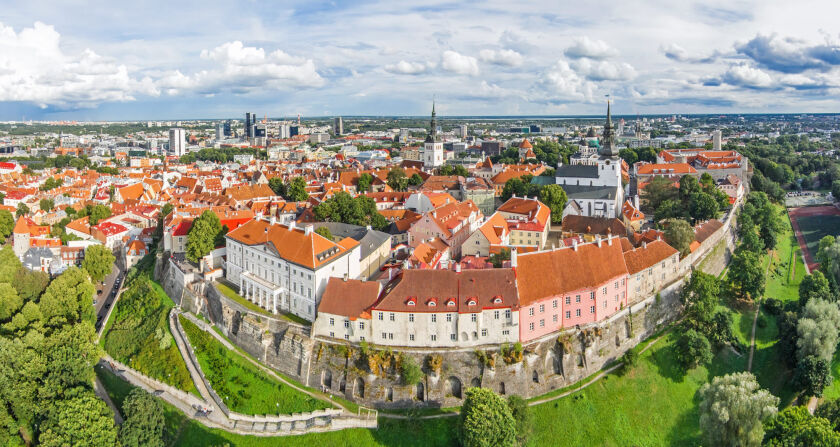 Nordic Consult has provided services for e-residents since 2017, but the company was founded already in 1997. Companies with multiple shareholders or physical goods providers are also welcome as clients.
They don't offer lots of additional services, but they cover all the necessities an e-resident company might need with attractive pricing.
Company registration with them costs €240 + €25 for every additional shareholder. Their legal address and contact person service— €125/year is one of the cheapest (only €5 more than with e-Residency Hub). The address is not just any address, but on Toompea hill in the center of Tallinn Old Town! This is where the Estonian parliament building and most of the government offices are located.
Their accounting service subscriptions start from €59/month. You will have 10 transactions and a 15-minute consultation included in the minimum accounting price. For micro-enterprises, it also covers the end of financial year reports.
In case your company is not VAT-registered, and you want only the annual reports done, they have this option for €75.
Nordic Consult at a glance
Highlights
Well-priced company set-up
One of the cheapest options for legal address and a contact person; an attractive location for the address as a bonus
Been operating for a long time
Financial year-end report option for non-VAT-registered companies
Things to note
Not a lot of additional services, however, covers all the necessary basic ones
TuneUp is a small two-person company founded in 2019. They provide consulting, company formation, accounting, legal address, and a contact person for e-residents.
Their pricing is very similar to Nordic Consult. Company formation costs €235, including the state fee, and there is a €25 extra charge for each additional shareholder. Like with Nordic Consult, you can get the legal address and a contact person for €125/year.
Their accounting services start from €59 per month (including 10 transactions and a 30-minute consultation). On top of that, you need to pay extra for the annual report, which price starts from €59.
If you only need an annual report, you can contact them for a personal quote.
TuneUp at a glance
Highlights
One of the lowest prices for incorporation
One of the cheapest options for legal address and a contact person
Possibility to only have an annual report done (without monthly accounting) if your company is not VAT-registered
Things to note
Not many additional services, but all essential ones are taken care of
SetGo was founded in 2019 after one of the co-founders, originally from Japan, moved to Estonia and went through the process of starting a company. SetGo is now based both in Estonia and Japan with employees from various countries.
Their one-time fee for company set-up is €250, and they offer a Startup plan for small and medium-sized companies for €25/mo. With that plan, you get a legal address and a contact person. On top of that, they give you access to their e-Residency community with a knowledge base and a marketplace for finding providers for other necessary services.
An Enterprise plan (for already existing or large companies) presents a tailor-made company set-up together with strategic advisory and networking opportunities. Since the pricing depends on a specific company, you would have to contact them for a quote.
SetGo at a glance
Highlights
Nicely designed website (you can see that one of the founders has a design background)
Things to note
No accounting, legal, advisory services, but they provide a marketplace
Some of the information in FAQs about e-Residency wasn't completely accurate
They only support PC environment for onboarding and company formation
No help with getting an Estonian bank account with the Startup plan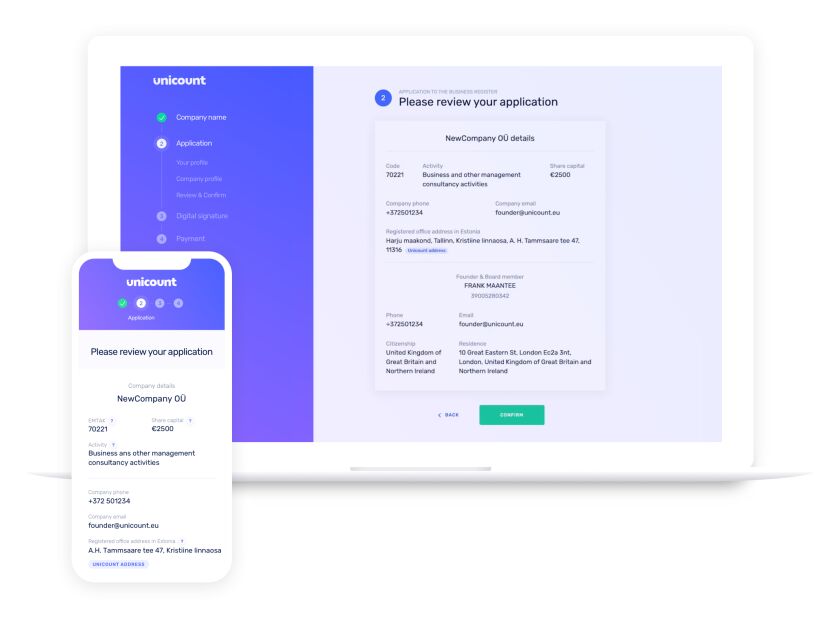 Unicount was founded in 2018 and provides just company formation, a legal address and a contact person for new or existing companies following self-service principles. You can use their self-service portal to register a company for €215 (which includes the €190 state fee).
The Estonian Business Register API only allows you to register companies with one physical person founder for now. There is no one founder limitation when registering a multiple shareholder company directly through Business Register with Unicount legal address and contact person. Also no restrictions when you want to switch your legal address and contact person service provider.
For address and contact person, they charge €179 per year (VAT added). Additionally, Unicount has a pretty good knowledge base on their website for e-residents covering all the main aspects of starting and running your Estonian company.
Additionally, Unicount has a pretty good knowledge base on their website for e-residents covering all the main aspects of starting and running your Estonian company.
Unicount at a glance
Highlights
User-friendly website with self-service portal for very fast company formation (according to them, it can be done in 5 minutes)
You can use Smart-ID for incorporation in any device
Useful articles for e-residents available for everyone
Things to note
They don't offer any additional services (accounting, consultancy, etc.)
Special offer: Unicount gives a special price of €189 (normally €215) if you incorporate your company through this link. The discount activates when you order the address & contact person package together with the company registration. If you prefer a code, you can use "NGATE21" instead of the link at the checkout.
Aaroni Accounting Services has a long-standing history of providing accounting for companies since 2008.
For e-residents, they offer a required legal address & contact person package for €150 (+VAT).
Their accounting services pricing is entry-based, but it is also possible to negotiate a set monthly fee. The minimum cost is €35 per month. Therefore, it might be a good option if you have a small number of entries per month. You have to pay an additional €35 for an annual report, but it is not much. Have a look at their pricing page for more specific information.
Aaroni Accounting Services at a glance
Highlights
Has been providing accounting services for a long time
Entry-based pricing could be a good option if you don't have a lot of accounting documents per month
Things to note
A small range of services
To sum up, the market leader Xolo has an excellent offer for most solopreneurs with an attractive price, processing of unlimited accounting documents, lots of experience, and a convenient interface. Xolo's biggest downside is that they only work with limited types of companies. If your business is more complex, there are plenty of alternatives to choose from—as you could see—regardless of whether you prefer an all-inclusive monthly package or to pay for various services individually.
We will do our best to keep this article continuously up-to-date. And we would also love to hear your experiences with the service providers, so please let us know in the comments below.
Special thanks to Sam, Mario, Sten, Mele, Oliver, and Roman for their contributions to this article!
Cover image credit: Unsplash
Join now!
Get free access to our community & exclusive content.
Don't worry, I won't spam you. You'll select your newsletter preference in the next step. Privacy policy.