This post will guide your through my personal experience of applying for a residency in UAE through Work remotely from Dubai program to getting a UAE ID. You can find the "theory" about the program on the official site. I'll describe the "practical" part from my perspective below. Let's go!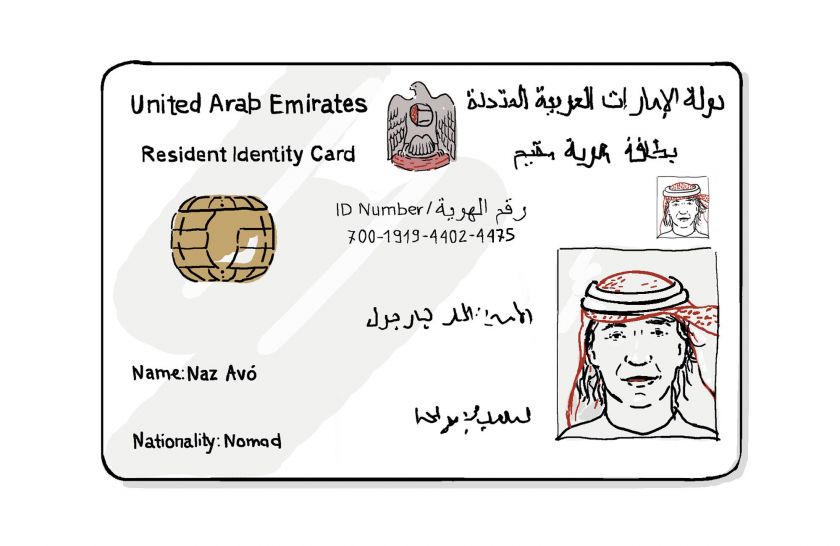 What is this?
This post will guide your through my personal experience of applying for residency program in Dubai through the Work remotely from Dubai scheme and getting the UAE Resident ID card. You can find the "theory" and visa requirements for the program on the official site. I'll describe the "practical" part from my perspective below. Let's go!
TLDR Guide
Apply through the official site, which directs your application to Al Rais Travel agency to guide you through. There is no alternative.
Provide all the documents the agency requests and your application gets pre-approval.
Make a payment for initial processing (1251 AED).
Travel to Dubai and do a medical tests at selected Medical Fitness Center.
After receiving a positive fitness results make another payment for the rest of the process (1140 AED).
Visit Federal Authority for Identity and Citizenship and give your biometrical data.
Receive a visa stamp in your passport.
Collect the UAE Residency ID card at the post office.
For a full version with tips and details continue reading!
Why Dubai?
I moved to the UAE from beautiful New Zealand last month (April 2021). There were quite a few reasons why I chose Dubai:
Second highest vaccination rate in the world
Well organized handling of the pandemic in general
Economical freedom
Proactive government supporting remote professionals
High quality of life
Warm climate
The list goes on and on!
The reason why Dubai popped up on my radar was because they surfaced on the "18 Countries With Digital Nomad Visas" list in early February. Back then, the New Zealand government wasn't sure if they would give another visitor visa extension. That's when I decided having another stress like that would not be acceptable and I started weighing out the options.
There were two criteria I was optimizing for when choosing Dubai. First, having the least amount of reverse cultural shock going into the pandemic world. Second, getting vaccinated ASAP. It was hard to beat Dubai in these "features" when I was doing the research in early March.
The UAE won the contest, so I started with the formalities.
Below is the whole step by step guide describing the details from the very first email application to receiving a United Arab Emirates Resident ID card. Hope you find it helpful!
Step 1
Started the application process by filling out the form on the Work Remotely from Dubai site. I've gotten a response same day. They asked for following list of documents to start the application:
Passport with minimum 6 months validity.
Health insurance with UAE coverage validity. In my case I went with SafetyWing.
Digital passport photo with white background, size 45mm/35mm.
Proof of income
If you are an employee, send a proof of employment from current employer:
A one-year contract validity, a minimum of US$5,000 per month salary.
Last months' payslip (this has to be a single document confirming a salary transaction).
Three preceding months' bank statements.
If you are a company owner, then you should provide:
A proof of ownership of company for one year or more
An average monthly income of US$5,000
Three preceding months' bank statements.
All of the above statement and contract copies have to be translated into English or Arabic and attested if translated.
Send these docs for the review and wait for initial screening approval.
Step 2
The next day I received a request to provide additional information. These were the things I had to send:
Mother's full name
Permanent address as per the passport
Mobile number
Education
Marital Status
Religion
Confirmation if I'm inside the UAE. If it was the case, they asked to send my current visa copy.
Step 3
The next day I received a full confirmation of "meeting core requirements" and was asked to proceed with a payment of 1251 AED. Filled out my card details, click, boom - shortly after got an email welcoming me to Dubai!
They've sent an electronic visa along with COVID related declaration forms. Print them out and carry along with the passport. You'll need hard copies for the immigration check on arrival.
Step 4
I wanted to save time and start the process ASAP after landing. So, I prearranged the medical fitness center visit. To do this you can ask to start the process few days before flying. This is what I was asked to provide:
A colored scanned copy of the original passport - not taken or scanned from mobile. (This one was a bit tough as I had to find a library with a scanner to scan the passport for them.)
Applicant's Full Address in Dubai
Dubai Mobile No. (I've preordered mine from Virgin Mobile UAE and it was available to pick up in the airport. Quite cool as the place works 24/7 and you are all ready to go with data on your phone! If you'd like to get 1GB/mo for free use my invite code - NAZAR62547)
Email address
Medical center name from the list below:
Al Lusaily Health Center
AL Muhaisnah Medical Fitness Center
Al Quoz Mall Medical Center
Hatta Hospital
Al Yalayis Medical Fitness Center
Al Garhoud Medical Fitness center
Al Nahda Medical Fitness center
The agency also send another payment link for 1140 AED as I chose a "normal" service for the medical processing. This part of payment was for: Medical +Typing Fee + Emirates ID + Visa Stamping.
"normal" service meant I would get my results in 4 business days. The other options available were 48 hour service for 532 AED, 24 hour service for 632 AED, and VIP service for 802 AED giving the results within 4 hours.
Step 5
Flight to Dubai! I flew with Emirates. Had excellent service and fully vaccinated staff on board. It was awesome flying with them, even though the flight was an insane 19 hours long!
Step 6
Landed and went through immigration. Showed them the documents from Step 3. While in the airport I picked up my pre-ordered Virgin Mobile phone number. It's best to get it straight away in the airport. You will need it to be able to complete the full Dubai residency program process, as some of the notifications come through SMS.
Step 7
This is Day 1 in Dubai. I took my passport and the electronic visa copy from Step 3, and headed for the health check appointment at Al Yalayis Medical Fitness Center.
Soon I realized what a mistake I've made - I booked the medical fitness appointment in the service center really far away from my hotel. Took ages to get to. On the bright side, the medical screening was lightning fast. They took a blood sample and did a lung x-ray. Was in and out in about 15 minutes. No queues, no crowds, nada. Expected result was 10 business days.
Step 8
Day 4 in Dubai. Received a medical check result from Dubai Health Authority through an SMS. Shortly after, got an email with a PDF document saying "fit" 🙂 I sent an email to the visa agency with the test result. They responded the same day and gave mea list of three offices to chose from for doing biometrics:
Al Karama Customer Happiness Center
Al Nahda Happiness Center
Al Qouz Customer Happiness Center
Step 9
Printed out my medical result document and the application form the agency sent for the biometrics check.
Step 10
Day 8 in the UAE. Took my passport and the documents from the previous step. Went to the identity processing center in Al Qouz.
Because I slept in, I got there around 9AM. Stood in a line for about an hour. Got my body temperature checked and went through a "disinfection shower" gate. Inside the processing office they scanned both of my palms and took a photo.
Pro tips: show up really early and wear long pants + long sleeves (otherwise you won't get your application processed).
Step 11
On day 10 I got a call about passport collection. A person came to my hotel and took the passport for visa stamping. They promised to return it the next day.
Step 12
The next day I received my passport back. It got delivered to the doorstep and I had a shiny new visa stamped inside of it.
Step 13
On Sunday afternoon I received an SMS from the government about my residency card waiting for me in the post office. The visa agency also sent me an email confirmation with a tracking number which was useful to reference in the post office.
Be ready to go to a middle of nowhere to get this document. There's only one post office in the whole city that processes National IDs. It's in Nad Al Hamar neighborhood behind Nesto Hypermarket.
That's it. You are all set to live in Dubai for a whole year! Congrats and welcome to the city
The total cost
The grand total for the whole process ended up being 2391 AED ~= 651 USD with today's exchange rate. The breakdown of cost end timelines I received from the agency were:
AED 1251 - Entry Permit Charges, approx. 7 working days;
AED 330 - Undertaking your medical examination. Expected Cost is for "normal" Service. Takes up to 10 business days.
AED 190 - Emirates ID Typing. 1 Day
AED 620 - Residence Visa Processing, approx. 10 working days
Note, if you are inside the country you'll have to pay an additional visa change status fee. Expected cost is AED 650 and 3-5 days of additional processing for inside the country application.
Tips from the other nomads
I've been chatting a lot to people on the Nomad List community and getting useful tips from them. So, decided to dedicate a section to some tips which could help others save time!
This one is from @francescocarlucci. Note, read the next tip!
There's one last step nobody mentions. It's the phone number registration to be able to use all Governmental E-Services. Grab your passport and fresh ID card. Head to the Residency and Foreigners Affairs of Dubai near Al Jafiliya Metro Station. The nice people at the front desk will happily register your number for free. Alternatively, you can do it online for a fee at the site of Federal Authority for Identity & Citizenship.
From @manu:
Note, there is no free version available any longer. Your easiest and cheapes bet is changing your phone number through an E-Service!
Another one that will save time for freelancers thinking to apply added thanks to @Pinkmoon13 mentioned at Nomad Gate:
Please note that this visa is not valid for Freelancers. I had assumed that, since I am registered as a sole trader/self-employed with the tax authorities in the UK, then I would be treated as owning my own company. I can now see that, for the Dubai authorities, they require an actual limited company or something similar.
Fin
Hope this guide helps you get through the somewhat convoluted process. If you find any inconsistencies or have additional tips please email me! I would love to keep the information updated for some time and help few more fellow nomads and remote professionals.
I'm also interested to find out about your experience and what brings you to the Emirates! Don't hesitate to flick a message
For anybody hesitant to visit the city. Here is my favorite short video showing most scenic Dubai views for your motivation:
This article originally appeared on nazavo.com/2021-guide-to-remote-from-dubai-one-year-residency
Cover image credit: David Rodrigo
Join now!
Get free access to our community & exclusive content.
Don't worry, I won't spam you. You'll select your newsletter preference in the next step. Privacy policy.